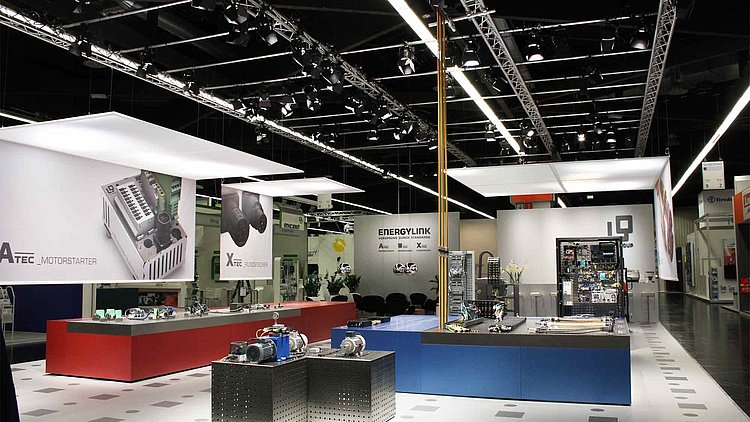 A successful SPS IPC Drives 2012 for the LQ Group
Simpler and more compact, yet with even better performance
Under the slogan "We make it simple", LQ Mechatronik-Systeme GmbH from Besigheim in Germany introduced visitors to its entire product portfolio at this year's SPS IPC Drives in Nuremberg.

On the exhibition stand, the displays included the modular EnergyLink system and the extended X-TEC series. The products grabbed the attention of visitors thanks to their simplified presentation and a sophisticated lighting concept. The company is delighted with the outcome of its three busy days at the exhibition.

Visitors flocked to the 200 sqm stand to see the wide range of products and services on offer and to look at potential areas of application for LQ's new product solutions. One of the highlights was the modular EnergyLink system, made up of an A-TEC motor starter, an X-TEC round plug-in connector and a W-TEC power cable. This combination makes it even simpler to connect the control cabinet to the motor.

Sybille Schwarz, LQ's Head of Marketing, comments on the three successful days: "SPS IPC Drives gave us the opportunity to have some very detailed and interesting discussions and provided us with some long-term and productive contacts."

The LQ Group's stand in Hall 8 was deliberately divided into two areas: control and installation. This meant the products could be displayed in a targeted way. The open lounge area in the centre of the display area provided plenty of space for customers to talk to company representatives.

The new model of the A-TEC motor starter is now available with connectors for dual use, meaning that two motors of up to 3 kilowatts can now run simultaneously. LQ also presented its latest enhancements to the X-TEC and W-TEC ranges. The X-TEC 15 model now has new features and with a diameter of just 15 mm and a capacity of 16 amps it can power motors up to 5.5 kilowatts. Containing six 2.5 square millimetre wires, the W-TEC 15 cable has the smallest diameter on the market and allows a nominal 16 amp current at 630 volts in constant use on its three power contacts.