Control cabinets from LQ
We make it simple.
As a service provider, we develop, design and assemble control cabinets, entirely according to your wishes and specifications. We manufacture and deliver standard control cabinets as well as individual solutions. At LQ, we have specialized in developing modular control cabinets. We combine individual components into complete functional modules and pre-assemble them on a carrier plate. Thanks to our modular solutions, installation becomes easier, process reliability increases and assembly time is reduced to a minimum. A single handle is all that is needed to place the module in the control cabinet. All modules from LQ undergo comprehensive testing before installation and are delivered to our customers complete with circuit diagram, layout, parts list and 3D model.
Request now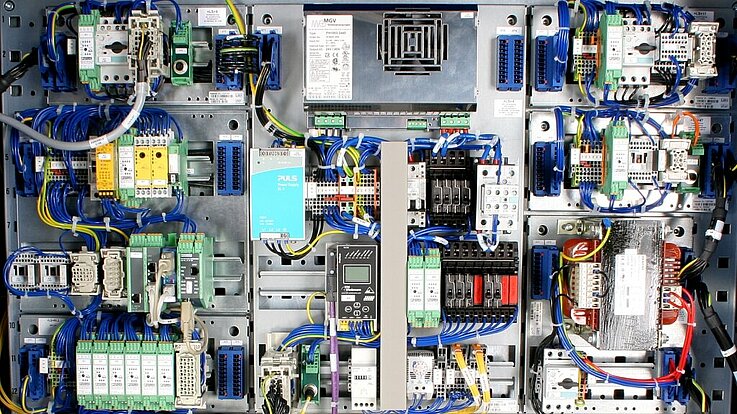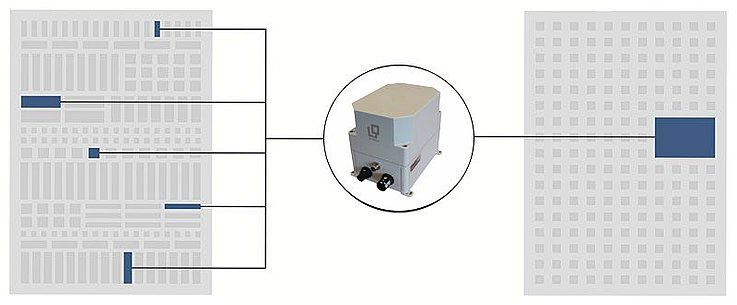 The modular concept
Hook up, connect - done
Innovative ideas reduce expensive production times, component management and machine downtimes: e.g. in the event of faults in the electronic circuit, there is no need for a lengthy search for the faulty component in the control cabinet; instead, the complete function module is replaced quickly and easily. We have succeeded in revolutionizing the principle of order in the control cabinet. Instead of many individual parts, complicated wiring and different contacts, functions are combined in modules. The basis is our modular control cabinet technology, where each module in the control cabinet contains a defined input, output and software interface. In addition to reducing the variety of parts and assembly lead times, this also results in significantly lower procurement costs and greatly reduced storage costs.
Higher efficiency in maintenance and retrofits
With modular control cabinets from LQ, an electrician is no longer necessary for fault diagnosis. Even module replacement is greatly simplified by the separable connections. Spare parts can be easily installed and modules subsequently repaired, helping to significantly reduce machine downtime. The control cabinets can be constructed in such a way that future retrofitting with functions is easily possible.
Request now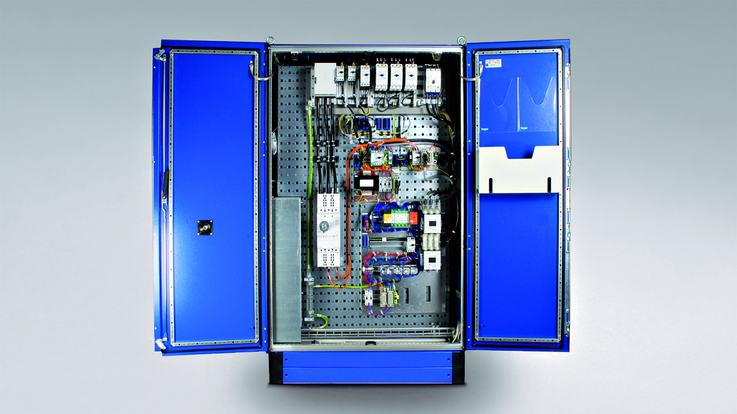 30
Reduction of the total assembly time
70
Reduction in control cabinet construction
85
Reduction of retrofit time in service
90
Reduction of components in the control cabinet
Reference projects
Modular control cabinet construction from LQ
FUL 36
Massive cost reduction in the modular control cabinet
In the control cabinet for operating an uncoiler on a reeling machine, Wafios AG uses handy functions instead of many individual parts. Replacing individual, fewer assemblies significantly lowers inventory costs and reduces the effort required for servicing.
TruMatic 7000
Decentralized control in the control cabinet
Compact units take over diverse functions and thus save costs and maintenance times. Due to this, 30% reduction in total assembly time is achieved, 70% reduction in lead time in control cabinet construction, 85% reduction in retrofitting time in service and 90% reduction in components in control cabinet.
TruLaser Robot 5020
Fast assembly of modular control cabinets
Prefabricated, tested assemblies in our modular control cabinets guarantee shorter throughput times with consistently high quality. Fewer skilled personnel are needed later at the customer's site to exchange modules and replace them with new ones in the event of service.
Things to know about control cabinets and control cabinet construction
Control cabinets are one of the most important components in installation technology. On the one hand, they serve as housing for the electrotechnical and electronic components of a control system for machines and systems. All elements are clearly arranged and structured in them. On the other hand, the control cabinet protects its interior from environmental influences such as dust, water or electromagnetic and mechanical influences.
What advantages do control cabinets offer?
Control cabinets offer several advantages. They shield the environment from electromagnetic emissions, protect against contact with dangerous voltages and contribute to fire protection. In addition, a control cabinet protects its components from dust and water, helps structure and prevents mechanical impact and vandalism. Control cabinets from LQ also offer the advantage of a modular and decentralized concept. In addition to reducing the variety of parts and assembly lead times, procurement costs are significantly reduced and storage costs can be drastically cut. Individual functions can be retrofitted, expanded and, in the event of a defect, replaced quickly and easily in no time at all. Hook it up, connect it - and you're done.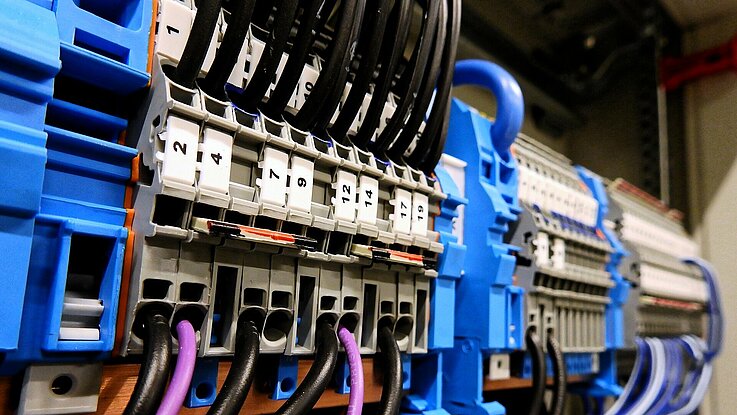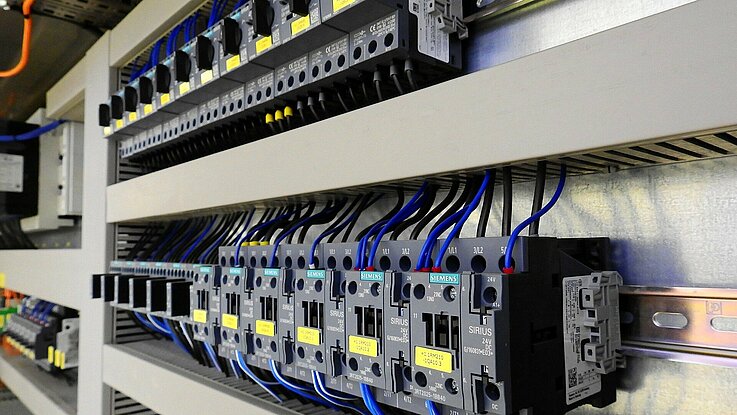 Switch cabinet construction basics: What to look out for?
Low-voltage switchgear and controlgear assemblies (SK) to DIN EN 61439-1 are specified by the user according to operational requirements.
The individual characteristics depend on the conditions and data such as:
Connection to the electrical network
circuits and consumers
Installation and ambient conditions
Operation and maintenance
When planning a control cabinet, various factors must be taken into account. Among other things, the arrangement of the components and cables in the control cabinet has a significant influence on the undisturbed system or machine function. In order to effectively exclude electromechanical interference, it makes sense to divide the cabinet into areas/zones of different power and interference levels. The requirements and application areas of the switchgear also determine the materials and regulations used. Enclosures used in outdoor applications must meet different specifications than those used in building technology or, for example, for automation technology in industry.
Important standards and regulations in control cabinet construction
In Germany, the "installation of low-voltage systems" is regulated by a large number of VDE regulations and DIN standards. The best known and most important series of standards is DIN VDE 0100, which applies to numerous areas of application and provides the basis for a systematic approach by planners and installers of low-voltage systems. In addition to the regulations and guidelines on the German market, there are also international standards. For applications in North America, for example, extensive testing and certification of the control cabinets according to UL (UL 508A) are indispensable. This is the only way to ensure that all components comply with current standard and safety guidelines.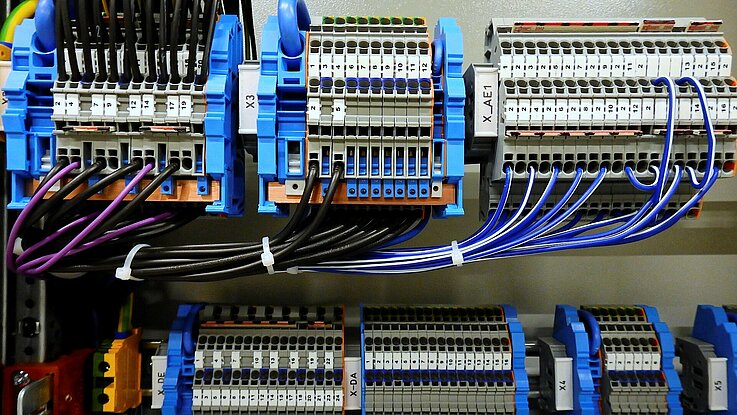 What types of construction are there in control cabinet construction?
Stand-alone control cabinet:
A single-standing control cabinet in a single-door or double-door design
Bayed control cabinets:
These control cabinets can be designed in modular control cabinet systems. The basic component is always a welded frame with sturdy doors of a roof cover and a closed rear panel. Side panels and bases can be added individually as needed.
Wall-mounted enclosures:
Enclosures of this type consist of a closed steel construction with a flange plate and a mounting plate. Wall-mounted enclosures are available in single-door or double-door versions, depending on size.
IT cabinet:
This type of control cabinet is primarily used as a network and server rack.
Outdoor control cabinets:
These control cabinets are mainly offered in aluminum, stainless steel or plastic due to the adverse environmental conditions.