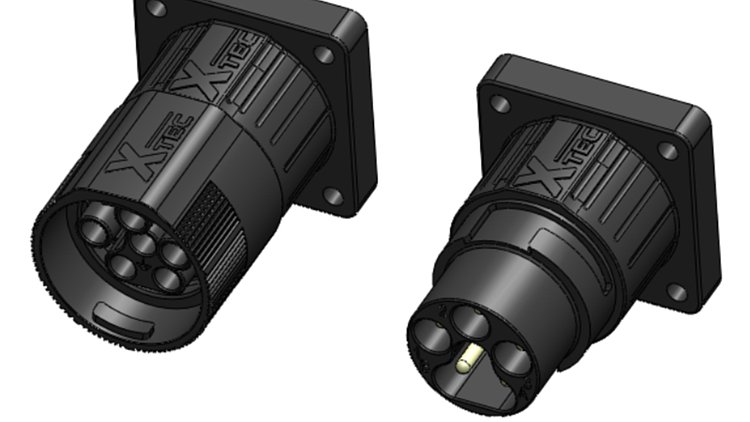 W-TEC 15 sets new standards
LQ Mechatronik achieves higher current density despite miniaturisation
W-TEC 15 sets new standards
Everyone who uses a mobile phoneknows the problem: different models and manufacturers all use different cables and connectors. It's impossible to swap or combine different phones with different charger cables. For individual phone users it's a nuisance, but for large companies it can present a major headache. Trying to connect different makes of machine parts and components from different manufacturers can lead to endless electronic interface problems. LQ Mechatronik-Systeme GmbH in Besigheim, Germany has set itself the task of resolving this problem and has already come up with a unique solution: the universal W-TEC 15 cable.
Manufacturers of assemblies, asynchronous motors and equipment can breathe a sigh of relief, because the ready-made, unshielded W-TEC 15 power cable with extruded, extremely compact pin-and-socket connectors reduces the complexity of the different types of cables used on your products. It contains six 2.5 square millimetre wires. This innovative design allows a nominal 16 amp current at 630 volts in constant use on the three power contacts and 10 amps on the two auxiliary contacts. This is the only device on the market providing such extraordinarily high performance for its small size. Other ready-to-use products offering similar performance are much larger. The W-TEC 15 cable is also lighter, making it ideal for use in energy chains.
The fully-automatic extrusion-coating of the pin-and-socket connectors provides excellent protection against dust and liquids and also makes it tamper-proof. Thanks to these features, the product is ideal for all kinds of applications, particularly for manufacturers of assemblies, equipment and machinery.
The pin-and-socket connectors have a quick locking device for easy assembly. The plug is securely locked by turning the fastener less than 90 degrees. A vibration protector prevents the pin-and-socket connector coming loose. LQ has also produced sockets in two different models to suit the standardized, ready-to-use cable. These are available with integral thread and mounting flange for easy attachment to motors and assemblies.