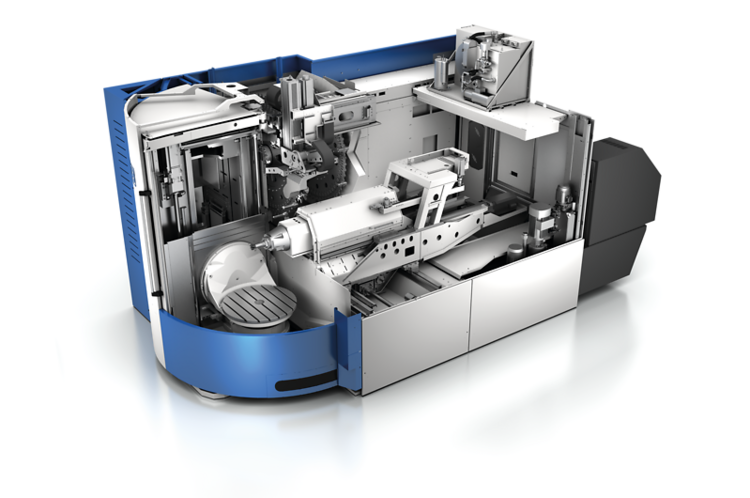 Win-win situation for both partners
LQ Group - Systems supplier for GROB
Key factors that guarantee GROB's success are the excellent quality and reliability of its own machine tools. GROB is one of the world's leading manufacturers of cutting production equipment for different sectors ranging from medical technology and tool and die making through to the automotive industry. Furthermore, GROB is a pioneer in the production of equipment to manufacture components for electric drive trains. Quality, reliability and flexibility are what the company also expects from the LQ Group, the systems supplier for machine-related cable assemblies that are installed in GROB machine tools. LQ satisfies GROB's high expectations and can also offer the company further important advantages.
GROB-WERKE GmbH & Co. KG (referred to as GROB in this article) with its headquarters in Mindelheim (Bavaria) is a technology leader in the manufacture of highly innovative production and automation systems. The family company with global operations is one of the leaders worldwide in the field of machine tools and systems, particularly for the automotive industry.
GROB's product portfolio has a reputation for excellence when it comes to quality and reliability and the company expects both characteristics from its partners. In 2017 the company was looking for a new and experienced systems expert to supply cable assemblies for its machine tools.
There were two reasons for this decision. Up to that point, the company had assembled its own cables but they wanted to reduce this to free up their own employees for other tasks and allow them to concentrate even more on its core competencies of building machine tools. The aim was for the new supplier to deliver systems solutions instead of individual parts, e.g. complete cable assemblies rather than the company assembling the cables in house. Previously the cable assemblies including the drive cables (motor, sensor and measuring system assembly) were also shared between different suppliers and the intention was to reduce the number of these.
An important requirement for the new supplier was to ensure smooth IT-supported procurement. It should be possible to trigger this process on the basis of GROB's design documents (super bill of materials of a machine) and for this information to be incorporated in the ERP system at the new supplier. Furthermore, seamless "IT feedback" of materials used by the supplier such as raw cables and connectors should be possible. This is of particular benefit to automotive customers, as these projects are processed on the basis of the specifications.
Entire process supported by IT
GROB chose the LQ Group based in Besigheim, Baden-Württemberg as the new supplier for the "external cable assembly" project. The manufacturer of complete electro-mechanical solutions for the mechanical and plant engineering sector is the only systems supplier on the German market in the field of installation technology that can deliver end-to-end IT-supported processing, starting with design and documentation and continuing with the manufacturing process right through to spare parts. The company is known for its global presence, in-house production, reliable delivery capability and transparent pricing policy.
Furthermore, LQ has considerable experience in implementing outsourcing projects with the aim of synchronising work processes and production. For instance, LQ can manufacture and deliver to synchronise with GROB's production requirements. An advantage here is that since 2020 LQ has had its own production site in Mindelheim, directly next to GROB's factory.
One challenge for LQ was to integrate GROB's customer parts lists and material numbers into LQ's own ERP system. In addition to this, uniform test criteria had to be defined and the inspection procedure standardised. Finally, LQ had to ensure that the orders from the previous supplier could be transferred without any problems and without disrupting deliveries to GROB.
High quality and flexibility
As LQ had already automated many processes, the company also satisfied the high demands for quality and flexibility that GROB expected from its suppliers. Consequently, LQ assembles all its cables in accordance with GROB's specifications, labels them as per their specifications and carries out quality inspections on 100 per cent of assemblies, including a 2.5 kV AC inspection for motor cables. All test results are documented and, if required, a QR code can be scanned for verification.
One of the ways in which LQ has demonstrated its flexibility is by setting up an express production line so that it could respond quickly to GROB's changes and requirements at short notice. Modern logistics concepts and planning systems, including just-in-time, just-in-sequence and Kanban, are standard for the systems supplier and also facilitate a flexible response. Because the LQ Group has an international outlook, the Besigheim-based company's concept has also been extended and implemented in GROB's overseas production plants in Bluffton (USA), Dalian (China) and São Paulo (Brazil).
Delivery synchronised with machine assembly
LQ is now performing all tasks associated with the "external cable assembly" project. Christian Mayer is Technical Assistant in the Universal Machines Business Unit at GROB and head of the "external cable assembly" project. As he explains: "Outsourcing services that we had previously carried out ourselves to an external supplier created a completely new process and procedure in the company. The new solution had been developed in close collaboration with all the relevant user departments and this was why optimum integration of the process was possible."
LQ supplies GROB with complete cable assemblies for specific machines to synchronise with the customer's machine production. Assemblies are delivered directly to where they will be fitted, with a material number and without packaging but, in some cases, on special frames. The IT-based purchase orders are made up in accordance with the end customer's specifications with individual materials, components and labelling, including feedback of the materials actually used. LQ has also installed delivery forecasting and scheduling at material level and is able to provide customers with 100 per cent tested cable assemblies and groups, including documentation of the inspection logs, all delivered on schedule.
Products supplied to GROB include servo cables (assembled power and data cables for servo motors), housing assembly (hand assembly) and coated automatically produced cable assembly. Control cables as well as data and bus cables from LQ in the power classes M8, M12, M17, M23, M40 and M58 are used for connections from the respective consumers, motors, pumps, initiators and valves to the switchgear cabinet. In addition to the production of cable assemblies, LQ enhances the individual assemblies to create machine-specific cable assemblies.
LQ's products are used in universal and linked milling machines for GROB's Universal Machines Business Unit. The machines are designed for special customer applications and frequently need to satisfy specific country specifications. The portfolio contains eleven different universal machine series and ten machine series for machining, comprising different pallet sizes and numbers of axes.
On-demand delivery
The customer interface begins with data import (super bill of materials) via the establishment of transparent communication to control material availability and manufacturing capacities. Outsourced products thus move seamlessly into LQ's processes and can, at the same time, be delivered to GROB on demand.
The fact that super bills of materials have been introduced means that the task of managing the many different variants for machine cabling has been passed to LQ. It is thus possible for both parties to focus on their core competencies – GROB for machines and LQ for the cabling.
Tremendous experience and expertise
Michael Niggl, the LQ Group's Key Account Manager for GROB, sets out the strengths of the systems supplier: "The experts at LQ have many years of experience and considerable market expertise. Our commitment to quality and our know-how range from the selection of raw materials and modern production of cable assemblies to automated processes for customising systems. In the case of GROB, this means machine-specific cable assemblies and groups. Ultimately, LQ relies right from the start on automated, digitalised processes throughout the entire value chain."
He emphasised: "The customer is very satisfied with LQ's delivery, quality and the great degree of flexibility as well, naturally, as the close location of the production site, which has already often been shown to be extremely helpful."
GROB's Project Manager Christian Mayer considers the greatest benefits are in the digitalisation of the processes and cost advantages. As he says: "Expectations to date have been met. The solution is continuously being optimised so that the processes can keep being improved and simplified. In view of the continuing very difficult situation regarding materials on the procurement market, we consider that the process with the super bills of materials and the feedback with the materials actually used for the documentation offer very great advantages." He summarises: "Concentration of competencies has proven to be a win-win situation for GROB and LQ."
About the GROB Group
The family company with global operations develops and manufactures systems and machine tools. Its customers include prestigious automobile manufacturers, their suppliers and companies in many different sectors. GROB operates production plants in Mindelheim (Germany), Bluffton/Ohio (USA), São Paulo (Brazil), Dalian (China), Pianezza (Italy) and Bangalore (India) as well as service and sales offices worldwide. The GROB Group has a global workforce of 8,400 employees.
GROB's portfolio ranges from universal machining centres and highly complex production systems with their own automation to manual assembly stations and fully automated production lines. Production systems for electric motors and assembly systems for battery and fuel cell technologies are also included in the company's product range. The company has implemented its own solutions for machining turbine casings and structural and chassis components. Production processes can be shown digitally and in a transparent way using the company's own GROB-NET4Industry software for digitising and networking production processes.