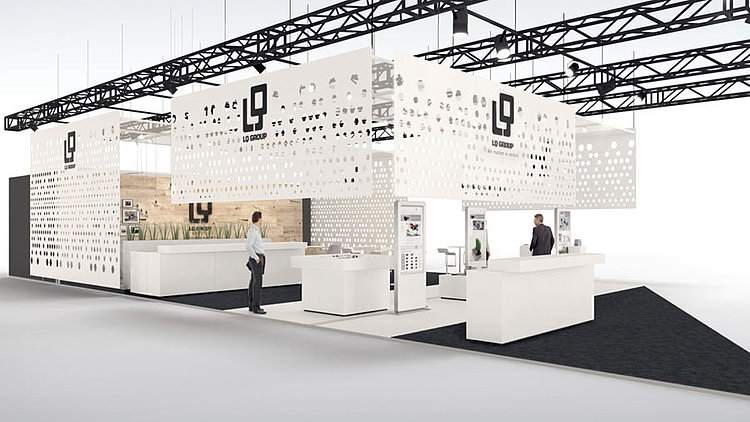 LQ's appealing new exhibition stand
Clear design language underlines the LQ Group's enthusiasm for innovation
LQ Mechatronik-Systeme will be attending this year's SPS IPC Drives show in Nuremberg with a stand that has been completely redesigned. In Hall 8, Stand 202 visitors can expect to find a successful combination of digital and analogue design elements.
Even the floor plan with three open sides and the angled shape indicate that this stand is something different. This new exhibition stand radiates dynamism, modernity and enthusiasm for design and innovation, starting at the reception area and continuing through the displays to the lounge. LQ Mechatronik-Systeme's stand is also favourably positioned at the entrance between Halls 8 and 9 so that it will be seen by anyone who looks to the right or left when they move into the next hall.
The exhibits are in the direct field of vision of the visitor flows and the presentation levels are at varying heights. Useful information about new features of specific products can be found on the three media towers with touch screens. The digital information available is rounded off by application examples and details on technical characteristics. LQ's services such as building switchgear cabinets and energy supply system assembly will also be featured on the stand. A sophisticated lighting system showcases the exhibits perfectly and provides a pleasant atmosphere in the lounge area.