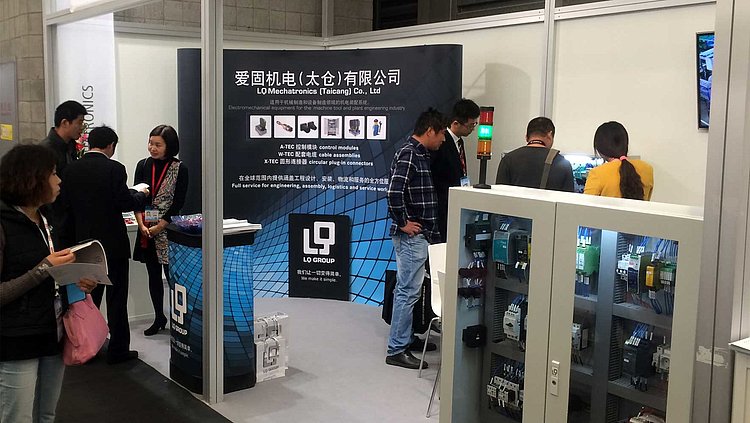 LQ Group kicks off the new trade fair season
At the International Automation Show (IAS) in Shanghai, the LQ Group will be on stand A026 in Hall 5.1, where it will be presenting its high-performance solutions and products in control and installation technology. One of the highlights will be the M15 Power, currently the most powerful cable assembly for its size on the market.
The M15 Power, a combination of the X-TEC 15 plug-in connector and the W-TEC 15 power cable, will be the focus of LQ's stand at this year's show. This cable assembly stands out because it is so small, with a diameter of just 15 mm. Its compact design means it is perfect when space is tight, so complicated installations are now a thing of the past. The M15 Power can be used universally and is suitable for machinery, engines, aggregate manufacturers and conveyor technology.
Reducing complexity for a tidy control box
At the Shanghai show, the LQ Group will also be exhibiting its modular control box. Unlike conventional control boxes, it sorts components into functional assemblies and gives them a defined entry, exit and software interface. This reduces the number of components in the control box, and saves money on purchasing and warehousing. They are all pre-assembled and can simply be plugged in, making installation quick and easy.
LQ in the booming Asian market
For some years now, Asia has been a strategically important region for LQ. "As an expanding mid-tier company, the Asian market is vital to us. This is where are products are in great demand", says José Quero, Managing Director at LQ. This is why the company has set up a facility in Taicang, where it now employs 44 staff. LQ Mechatronics has an excellent infrastructure and benefits from being close to Shanghai. It handles installation and control technology, systems, engineering, logistics and after-sales service.