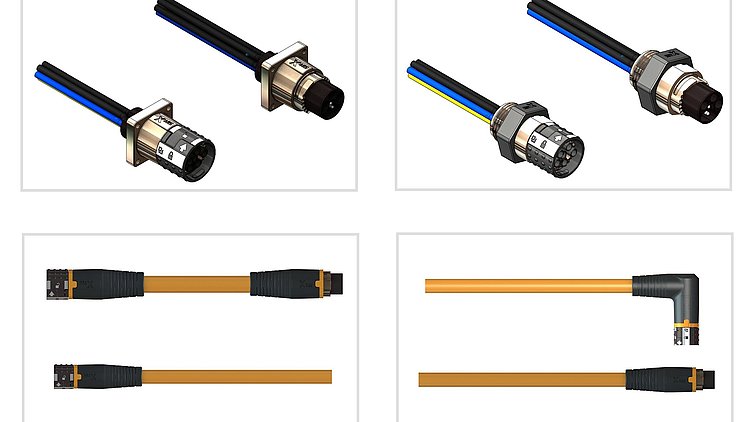 Three strong partners, one strong product, one shared goal
Coming closer together:the companies LQ Mechatronik-Systeme, Murrelektronik and Amphenol-Tuchel Electronics are presenting the M15 Power, their co-operation project, at the SPS IPC Drives show in Nuremberg, Europe's leading trade fair for electronic automation.With the powerful plug-in connector the three partners want to set a new standard on the market.
The aim of the cooperation is to position the product in the core markets and to drive forward the development on the market – this is how a new market standard is to be created in the 400-volt range. For this purpose all three companies are incorporating the plug-in connector into their existing product portfolio and distributing it worldwide under the product name M15 Power.
Small but it packs a punch:Very powerful yet with small dimensions
Friedrich P. Link and José Quero, Managing Directors of LQ, are of the opinion that the cooperation provides a tremendous opportunity to establish a new market standard. "The new M15 Power plug-in connector stands – as can perhaps be guessed from its name – for maximum performance but with very small dimensions. In continuous operation it achieves 16 amps on the power contacts and 10 amps on the auxiliary contacts. This outstanding power with such small dimensions is unique on the market to date."
With a diameter of just 15 millimetres, the M15 Power opens up numerous deployment opportunities for manufacturers of machines, motors and units as well as for applications in conveyor systems. The compact design allows customers to use the connector-and-cable system even under cramped conditions – complicated superstructures that take up space are no longer required.
On the subject of the cooperation, Joachim Schmid, Head of Marketing at Amphenol-Tuchel Electronics, says: "With the LQ Group and Murrelektronik we have two strong partners with outstanding expertise, who are established in the market, on our side. The collaboration is a win-win situation for everyone involved."
High performance, compact design, maximum flexibility
Even Michael Dietrich, Director of Global Product Management at Murrelektronik, finds the product and the partnership compelling: "M15 Power is the optimum product to integrate into our portfolio. The advantages are obvious: high performance, compact design, maximum flexibility. Our customers will definitely benefit from the cooperation."