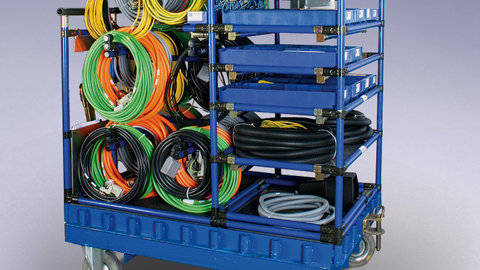 Keeping a close eye on the big picture
LQ Installationstechnik: vom Kabel bis zur Energieführungskette
The more mechanical and plant processing engineers concentrate on their core business, the fewer the resources that are devoted to the time-intensive production and assembly of cables and cable carrier systems. Systems suppliers play an important role here as an indispensable partner. LQ is one such partner. The Besigheim-based company recognised at an early stage that outsourcing is invaluable for customers. The mechatronics experts deliver installation technology in its entirety so that it is ready to connect directly to the machine – starting with the cable and cable assemblies and continuing to the cable carrier system.
LQ are undoubtedly experts in the field of installation technology. Up to 35,000 cables assembled per month and over 100,000 assemblies each year are produced in Besigheim and delivered directly. Individual assemblies are produced, depending on the customer specification and machine requirements. The key motivation for machine manufacturers to outsource preparatory production steps to external service providers is that it allows them to focus on their core expertise. Instead of producing and assembling each individual cable themselves, the installation technology is taken care of by companies such as LQ mechatronic systems. LQ consolidates components into functional units for both controls and machine installations and these are delivered to the customers ready to install and with the functional checks already carried out. The bespoke installation systems are delivered synchronously for production and, apart from the detailed installation plans, also contain documentation for all components and assemblies. For the customer this means that the installation is noticeably simpler and faster, thus gaining valuable production time.
LQ focuses on the installation technology and structures the cables, which are delivered pre-assembled and labelled with the corresponding item code. Identification of the source and target makes connection easy in line with the principle of plug-and-play.
Installation technology, tested for function
LQ supplies the assemblies, prepared for installation, on transport racks that are specific for the machines. This simplifies the goods-in procedure: only one complete part needs to be recorded rather than having to break this down into the many small items. The compact delivery prepared for installation also makes integration into the existing machine geometry easier. This reduces the time required by the customer for installation from several days to just a few hours. Once installed, machine downtimes are also reduced thanks to the function-tested systems.
As a systems supplier, LQ has a highly responsible role. Customers do not only expect delivery right on schedule and problem-free logistics: they naturally also expect excellent reliability and quality. These factors demand exceptional trust between the customer and systems supplier.