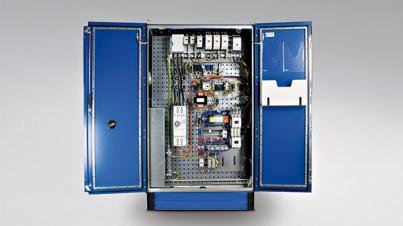 Intelligent standards – greater efficiency
LQ Group: Functions instead of individual components in the modular control cabinets
Lower costs, more compact space and considerably less time required to design and install units of the same high quality: these are some of the many points in favour of LQ Mechatronik-Systeme GmbH's modular control cabinet. The formation and use of function groups has allowed the Besigheim-based company to offer considerable competitive advantages and simplify process structures in respect of design, purchasing, production and service.

Conventional control cabinets require a greater variety of parts, because they are equipped with a central control, sensors, actuators and switching devices. It is therefore necessary to procure, store and process a large number of components. Considerable outlay is needed to wire individual components and this work is prone to errors. It also involves expense and a great deal of time.

Functional, cost-effective, space-saving
LQ Mechatronik-Systeme GmbH with its headquarters in Besigheim manufactures modular control cabinets, which stand out because they reduce complexity. Fundamental to this is the way in which conventional components are grouped together to form functional assemblies. Each module in the control cabinet contains one defined input, output and software interface each. It is not possible to form function groups of this kind in conventional control cabinets. The advantages of the concept are the reduction in the number of parts combined with much reduced outlay for procurement and warehousing. Furthermore, the company uses prefabricated cable assemblies to build the control cabinets, which helps to cut costs.
This forms the basis for upgrading the conventional components used to form multi-function components. The resulting modules have high integrated functionality, thus reducing the space required in the control cabinet. In addition, the PLC software and diagnosis software are integrated into the module platform during a final development stage. This allows the LQ Group's mechatronic experts to enhance integrated functionality further and save even more space.

Customers benefit from the time saved and more individual solutions
The formation of function groups has the advantage that the company can respond more quickly to specific customer requests, new developments in the market or other changes in requirements. What is crucial in this context is that the function groups are already pre-assembled and can be installed in the unit as soon as the order is placed.
A further advantage of this comprehensive electromechanical solution is a very substantial time saving: when compared to conventional control cabinets, the order time is cut from six days to just two days and assembly time is reduced from three to four weeks to three to four days. Finally, considerably less work is required for configuration or to retrofit additional functions of the electrical installation.
Reducing the complexity by the formation of functional groups is characterizing LQ's modular control cabinets. This property brings a significant increase in efficiency by reducing the number of parts and thus coherently also significant cost and space savings.