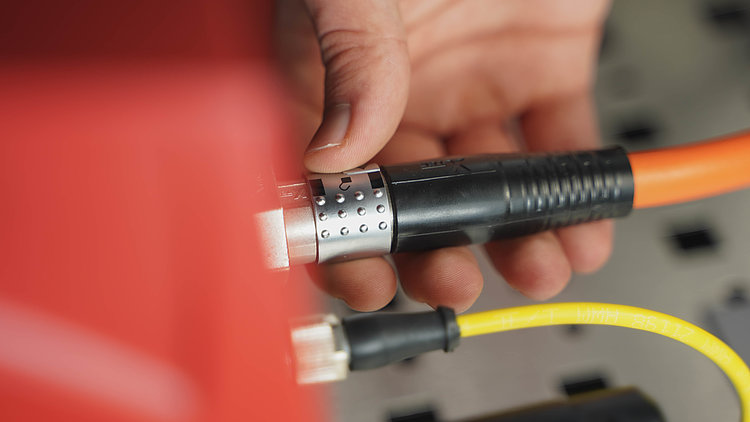 Industry 4.0
Standardized interfaces as a foundation
Industry 4.0 has changed the entire working landscape and will continue to shape it in the long term. Machines and systems communicate directly with each other - without human intervention. Different processing stations within a production line exchange data signals. The system knows the current status of each product to be manufactured at all times. Uniform interfaces from LQ form the foundation for eliminating interface problems and efficiently automating machines and systems.
In the past, the control cabinet was the central element of automation. In the meantime, many automation technology functions have been relocated directly to the field. Whereas large cable harnesses used to run centrally from the control cabinet to the plants, today serial wiring is used via bus technology. This change has had a lasting impact on automation and optimized the wiring effort. Simple connectors have become high-tech products.
For machines, systems and processing stations to be able to communicate with each other at all, they must speak the same language: have a common interface. The data from one processing station must also be retrievable at other processing stations. If each system manufacturer has its own interface configuration, a combination of different machining stations from different manufacturers can only be implemented with a great deal of effort. Each connection represents a special solution and is correspondingly error-prone. The LQ Group is committed to a standardized solution. Identical interfaces on different systems guarantee reliable and error-free data exchange. This creates the basic prerequisite so that the most diverse machines, functions and systems can be linked together at all and lays the foundation for meaningful and efficient automation.
This approach by LQ reduces the effort required by machine manufacturers enormously. A standardized interface can be integrated directly into the machining stations. The creation of a parts list, the ordering of various individual parts and the production including documentation are a thing of the past. Quality and safety increase. For the machine manufacturer, the entire process chain is reduced to three steps with an interface solution from LQ: select - order - install. Done.
Those who want to be prepared for future technologies and trends will already find a solid basis for connection technology today. Qualitative differences in the selection of the foundation already determine how easily, quickly and safely existing plants can be converted, retrofitted or expanded with future technologies.