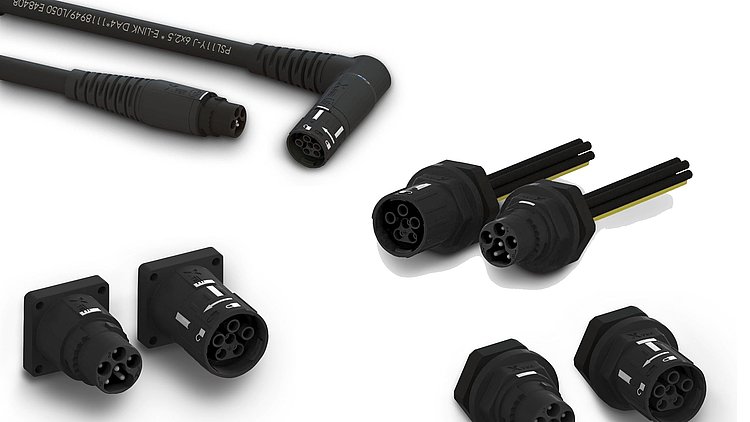 Focus on performance
Plug-in connectors and power cables in the 630-volt range
Universal installation technology sets new standards in mechanical and plant engineering. Instead of using a range of different connectors, everyday production processes can now be greatly simplified. A single, vendor-neutral and totally all-purpose solution reduces installation time and improves user-friendliness.
Asynchronous motors are currently the most commonly-used electric motors in the industry. They are used for a wide range of applications, such as pumps, conveyors or drive motors. They are still usually connected directly to the motor terminal box, often using a PG connector.
But one major disadvantage of this is, that it is a technically laborious and time-consuming process from manufacturing the motor up to the installation, considering that it is necessary for a qualified electrician to connect the motor and test its function after every single production stage.
Standard installations increase quality and economy
Standardised interfaces simplify and speed up processes. The system's modular construction simplifies engineering, logistics, installation and service. Using plug-in connectors, the motor only has to be connected once by an electrician for testing – at the motor manufacturers. At all the other stages it just has to be plugged in for testing.
Standard installations provide more benefits. In addition to saving time, companies also benefit from the fact that mechanics are permitted to connect the motor. Normally, only qualified electricians are allowed to connect machinery. But plug-in connectors work on the plug-and-play principle, so the installer is also allowed to carry out this operation. And the connector really pays off in the event of a malfunction while the production is running or when fitting spare parts. The motor simply has to be unplugged and then plugged back in again.
Companies such as LQ Mechatronik-Systeme GmbH, based in Besigheim, Germany, specialise in the manufacturing of electromechanical machinery and plant. The mechatronics experts' portfolio includes plug sizes M8 to M12, from X-TEC 15 up to X-TEC 23 and 32.
Compact construction and high power density
For the 630-volt range, the company offers its new X-TEC 15 plug-in connector. This allows the operation of motors up to 5.5 kilowatts. When combined with the W-TEC 15 power cable, the plug-in connector becomes a real cost-saver. The plug connector and power cable are vendor-neutral and their compact construction means they offer a wide range of applications to manufacturers of machinery, power units and equipment. They are much smaller and more powerful than 7/8-inch plugs and cables. Rather than just 9 amps, they allow 16 amps in constant use on their 3 power contacts and 10 amps on their auxiliary contacts. This is the only device on the market that provides such extraordinarily high performance for such a small size.
Major advantages of the compact round plug are the ease of installation and the fact that intermediate connections are possible at any point. Another basic W-TEC cable simply has to be attached. "This wasn't possible with the old rectangular plugs, because they needed more space. The rectangular connectors are too bulky in the cable duct", explains Matthias Eßlinger, Product Manager at LQ.
On top of this, with the M20 thread it is possible to quickly connect the wiring to the motor without the need to make any mechanical alterations. The connection is already in the motor terminal box. It is easy to retrofit the plug, so standard motors can also be adapted without any problem.
The special quick-lock system also ensures a high level of safety. The plug is securely locked by turning the fastener less than 90 degrees. It is easy to see the status of the lock thanks to the user-friendly pictograms. In addition, a vibration protector prevents the plug-in connector from coming loose. The round plug is available with flange or screw thread (M20 x 1.5). It can be used at various angles thanks to the DIN-rail adapter designed by LQ for this product range, making it suitable for almost any application.
Integrated, function-tested solution with IP 67 protection
The fully-automatic extrusion-coating of the plug-in connectors provides excellent protection against dust and water and also makes it tamper-proof. The overmoulding material is precisely adjusted to the casing in order to achieve IP 67 standards. This integrated, function-tested combination of plug-in connector and power cable also has the advantage that it can be extended at either end at all times. This is because only one type of power cable is needed for the whole installation. The basic cable also acts as an extension lead.
The ready-made, unshielded W-TEC 15 power cable is available with two-sided or one-sided plug or with angled plug-in connector. This significantly reduces the complexity and different types of cable assemblies needed. The W-TEC 15 cable is also lighter, making it ideal for use in energy chains.

Customer benefits – precision and innovation
The round plug and cable were developed in close collaboration with TRUMPF GmbH + Co. KG, Ditzingen. "Before starting work on designing the products, we asked TRUMPF about their requirements", says Mathias Leuze, Key Account Manager for TRUMPF at LQ.
The Ditzingen-based company operates worldwide, and it decided to move towards plug-in connectors some years ago. At that time there were no plugs on the market in this size and with this power density. So they initially used rectangular plugs, but this involved a degree of mechanical conversion work.
The IP 67 standard was also an important product feature for TRUMPF. But the connector they used at the time was in need of improvement on the control cabinet side. The plug was only rated IP 20 and it could not be extended in situ. In contrast, the integrated, function-tested plug-in connectors and cables from LQ can be extended as required at either end and even in the control cabinet.
This close collaboration has been crucial to the success of both companies. "The products and services provided by our suppliers have a direct effect on TRUMPF's success. This is why when we select our suppliers we take care to ensure that their products and services meet our high standards", explains Michael Baumstark, Group Sales Manager at TRUMPF. "We were totally convinced by LQ's modern, innovative concept."
In brief
Plug-in connectors simplify a wide range of production steps. Savings can be made on installation costs by significantly reducing the complexity and the different types of cables used to connect the machine control to the motor.