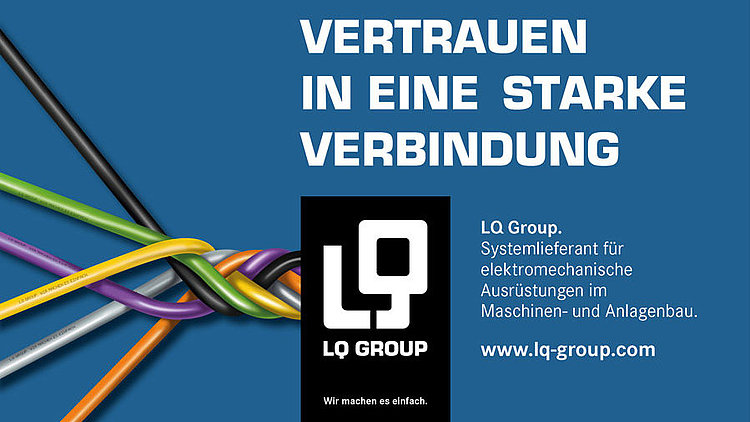 Trust in a strong connection
LQ's friendship bracelet will convey the company's image in future
When choosing a new motif for advertisements, LQ's marketing team have opted for a symbol that sends a strong message. A friendship bracelet braided using cables in the RAL colours of the electronics industry will in future stand for trust in a solid business relationship and high-quality products from LQ Mechatronik-Systeme.
"It wasn't easy to find a meaningful motif that covers everything with such a broad spectrum of products and services," is how Sybille Schwarz, Head of Sales and Marketing, described the initial phase when they were looking for ideas. However, the friendship bracelet is a very well-known, everyday symbol to express the ideal connection between the company and its customers. A stable partnership, trust in the services and a common bond, even in turbulent economic times.
"Also, the reference to a cable creates a link to installation technology, which is definitely a core aspect of our business activity," she adds. Even LQ's slogan "We make it simple" is reflected in the friendship bracelet. Many individual cables create a sturdy bracelet – a sustainable connection.
The new advertisement will initially be placed in specialist technical publications but it may also be used for other advertising purposes. The striking colour scheme and the bold use of a non-technical motif will attract attention among advertisements that largely focus on products. "Whatever happens, we will work with this motif for a long time and use the space to the right of the artwork to deliver different messages – for instance, on trade shows or special topics."