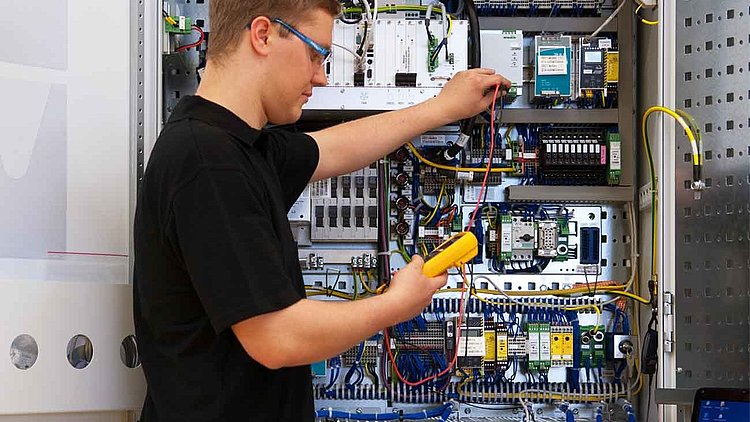 The fourth industrial revolution
Modularisation as the future in mechanical and plant engineering
The fourth industrial revolution – better known under the name Industry 4.0 – poses major challenges to German mechanical and plant engineers. The adjustments required in corporate processes appear to be an insurmountable hurdle in the path towards digitisation, especially in the case of smaller and medium-sized enterprises. José Quero, Managing Director of LQ Mechatronik-Systeme GmbH, has worked in the industry for more than 30 years and has a positive view of the approaching change. He considers that modular automation platforms, in particular, offer tremendous potential. In his view, only those who pay sufficient attention to developing and investing in this and also create the appropriate underlying conditions will remain competitive in the long term.
"When major upheavals occur in the industry, uncertainty and rejection always set in: that was what happened during industrial revolutions in the past and it is no different today." This is how José Quero describes the situation in which many smaller and medium-sized mechanical and plant engineers find themselves today. In his view, the concept of digital transformation has not yet made a mark in these businesses. Quero, who has over 30 years of experience in the business, considers that structural changes are one reason: "If a company makes a concerted effort to explore Industry 4.0, changes to the organisation and workflow are inevitable. At present, there are still very many people who will resist it; they are fearful about their jobs and status."
Industry 4.0 provides opportunities
The opportunities offered by Industry 4.0 are tremendous: numerous studies such as those by the management consultancy McKinsey and the VDMA demonstrate that the bringing together of physics, data, logics and communications technologies will have far-reaching positive effects on the entire value-creation process, business models and the organisation of work. Production processes and delivery chains will become more efficient, and material costs and energy consumption will be reduced significantly by global networking of machines. This, in turn, makes it easier for mechanical and plant engineers to respond to individual customer requests more quickly.
Reducing unnecessary complexity
Quero considers that another fundamental problem that runs through the whole industry is the large number of component variants that exist without any technological benefit (for example, contactors, fuses, etc.): "The majority of mechanical and plant engineers have way too many versions of electrotechnical components. This can be explained by the fact that they try to accommodate all their customers' requests for solutions and modifications. This involves a high outlay for development and unnecessary complexity in the company – quite apart from the enormous costs this entails."
In order to prevent this, those responsible must address where this complexity causes the greatest problems internally and the points at which it can be reduced. Quero adds: "The stage involving the "clean-up" is one of the main tasks in the industry – without this digital transformation will not be possible." Only those who are able to implement this basic condition will also be able to compete and assert themselves in the future. The customer will not suffer any disadvantages as a result of this.
Individual strategy throughout the entire value-creation chain
Quero therefore recommends smaller and mid-sized mechanical and plant engineers to develop their own individual modularisation strategy in advance. "It has been common in the sector only to implement standardisation for individual process steps or pilot projects. However, the greatest advantages of modular platforms only come about when they are implemented throughout the entire value-creation chain. Only then will the company benefit from genuine competitive advantages."
Increased efficiency thanks to intelligent standards
If different electrotechnical components such as terminals, contactors and fuses are brought together to form complete functions, this forms the basis for intelligent and communicative functions. Quero has been using platforms such as the modular switchgear cabinet for product development at LQ for a very long time. As one of the few systems suppliers in the field of mechanical and plant engineering, LQ develops and designs functions (modules/assemblies) for this sector – starting with development of the prototype and going right through to series production. In addition to development, design and assembly of the equipment, the range of services offered by the company based in the German region of Swabia also includes logistics and services.
In contrast to traditional switchgear cabinets, the modular switchgear cabinet produced by LQ groups together conventional components to form functional assemblies and assigns each of these a defined input, output and software interface. This reduces the number of different parts used in the switchgear cabinet and keeps amount of effort required for procurement and warehouse management to a minimum. "The advantage of forming functional groups is that mechanical and plant engineers can respond more flexibly and speedily to specific customer requests, new developments on the market or changed requirements," explains Quero. "What is crucial in this context is that the function groups are already pre-assembled and can be installed directly in the unit as soon as the order is placed. This reduces the time required enormously."
The use of modular platforms affects all areas of the business – from design and purchasing to production and service. Simplified assembly, lower warehouse inventory, higher quality and faster service processes are just a few of the advantages gained by companies involved in mechanical and plant process engineering.
Digitisation will become increasingly important
The signs are that industry will see radical change, thanks to the fourth industrial revolution. Forecasts predict that digitisation of the factory environment will become increasingly significant and relevant in coming years. This is why Quero is advising mechanical and plant engineers to overcome their fears and reservations and start to standardise their work and production processes as early as possible. Without a systematic reduction in components and movement in a functional direction it will not be possible to create an intelligent and communicative basis.