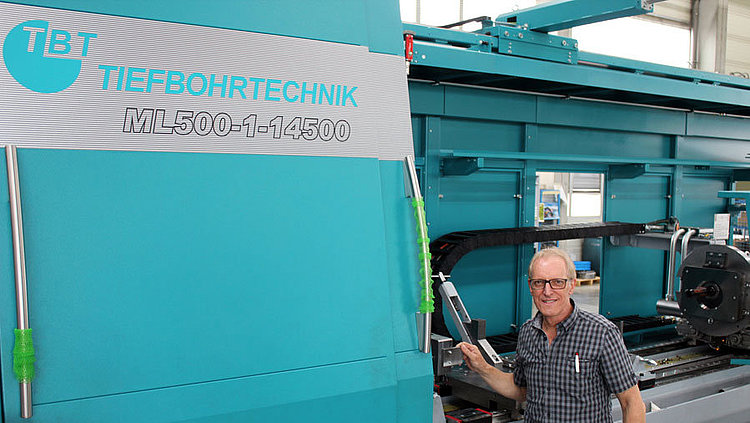 TBT Tiefbohrtechnik from Dettingen have opted for the M15 Power plug-in connectors
Safe connections for all units
At Dettingen-based deep-bore drilling specialist TBT very many different units, from pumps to filters, ensure the process reliability of the cutting equipment once it has been installed on the customer's premises. The company was repeatedly having to come up with creative solutions using sheet metal fittings to mount the units on the machines – a time-consuming and expensive process. TBT found the solution in the LQ Group's M15 Power plug-in connector.
"LQ's slogan 'we make it simple' really did provide the breakthrough for us," is how Werner Baumann, head of the electrical engineering department at TBT Tiefbohrtechnik in Dettingen/Erms, summed up the situation. With around 40 years' experience in the field, he was delighted to gain the upper hand in the fight against the steady rise in the cost of installation for their numerous standard and customised machines. TBT's first step was a sample box with LQ Mechatronik-Systeme's W-TEC 15 power cable with an X-TEC circular plug-in connector but further persuasion was needed to convert the entire procurement chain to the new connector.
TBT Tiefbohrtechnik GmbH + Co. KG have stood for expertise in deep-bore drilling production engineering for over 50 years. In addition to high-precision machine tools, the company also supplies the appropriate drilling tools and is known as a service provider for difficult cutting work.
A range of different units are used for process reliability in order to support the complex drilling process and obtain optimum machining results. These include hydraulic units, filters and oil mist separators as well as coolant and lubricant pumps. This is precisely the problem for installation technology: the connections are somewhere different on each unit and "each time we had to think again about where we would position the mounted units for the electrical installation." As is very often the case, these connections consist of metal socket and sleeve housings that are screwed on to the machine panelling. "The installation technology offered by the M15 Power makes this complex metalworking superfluous. All that's needed is to fit the connector on to the screw-in thread on the unit." says Werner Baumann.
The UL and CSA accreditation allows the connectors to be fitted in equipment that is used worldwide. Apart from Europe, TBT's deep-bore drilling machines are also used in the USA, China, Brazil and Mexico.
"Although we were impressed by the cost-effective price, it was ultimately the simple handling provided by the M15 Power that really persuaded us. Insert, lock in position and that's it – and this also is an argument that benefits our fitters on site, if they need to change a unit urgently." Werner Baumann put it in a nutshell: "We solved several problems at once."