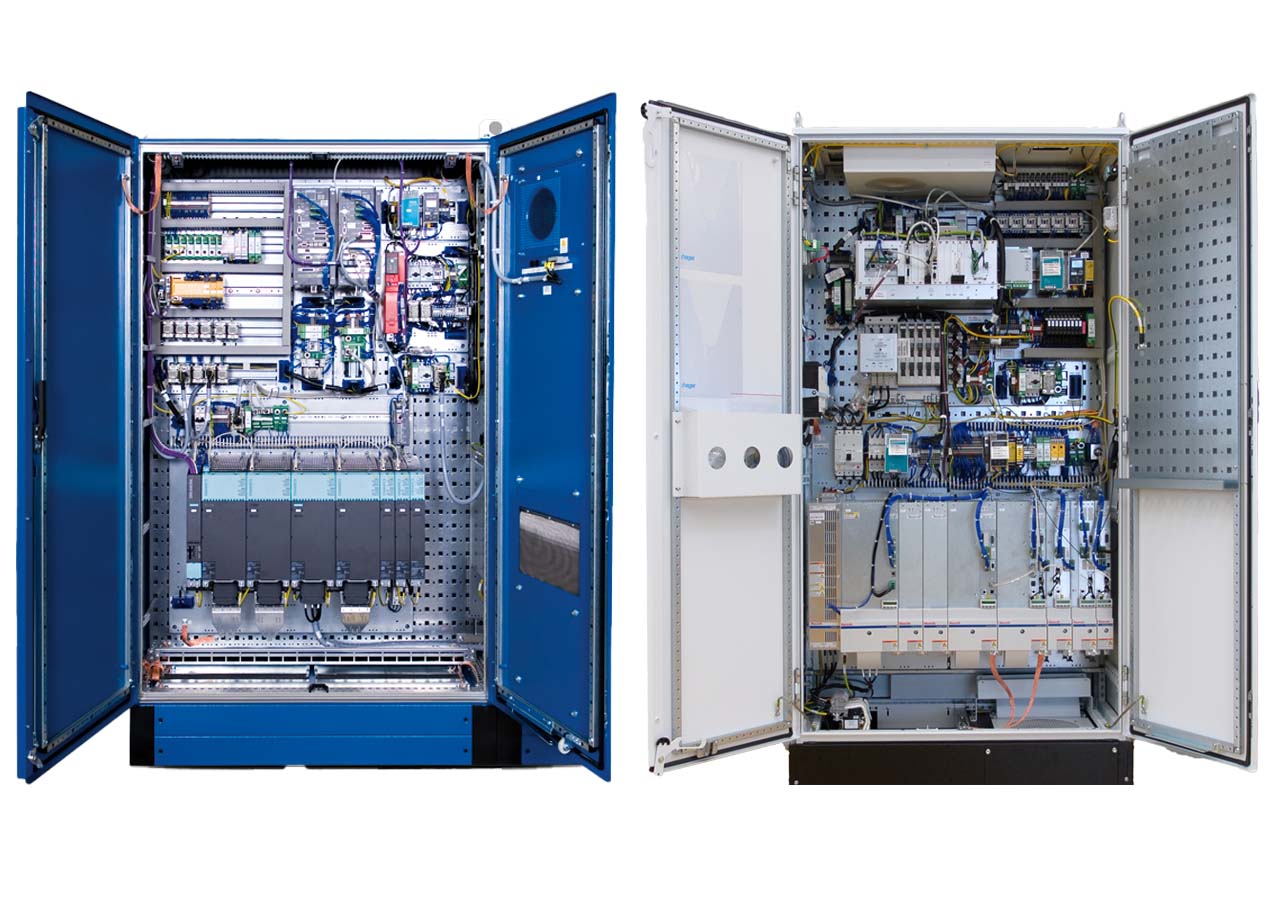 Switchgear cabinets from LQ
The brain cells in the mechanical and plant engineering sector
Switchgear cabinets have an essential role in industry. They house the controls for machines and systems and protect the electrical and electronic components from the dirt, dust, water and mechanical effects that are sometimes present in industrial environments. As a service provider, we develop, design and assemble both conventional and modular switchgear cabinets in accordance with customers' precise specifications.
Depending on what the customer wants, we produce conventional switchgear cabinets with central controls, sensors, actuators and switching devices where a large number of different parts are used. At LQ we specialise in developing modular concepts for switchgear cabinets to benefit from the many advantages of modular designs. For this we group together individual components to create complete function modules. We then pre-assemble these on an appropriate carrier plate, thus simplifying installation as well as improving process reliability. All modules undergo a comprehensive series of tests before installation and are supplied to our customers complete with circuit diagrams, layouts, parts lists and 3D models.
The modular concept for building switchgear cabinets
Innovative ideas reduce the time required for expensive manufacturing tasks, the effort involved in managing components and machine downtimes yet they also drive important long-term advances in the mechanical and plant engineering sector. One advantage of the modular concept is that, if an electronic circuit develops a fault, it is no longer necessary to carry out an extensive search in the switchgear cabinet for the missing component but instead just the complete function module is changed. This is how LQ has managed to revolutionise the way switchgear cabinets are structured. Our modular control cabinet technology provides the basis for the system with each module containing one defined input, output and software interface each. It is not only the large number of different parts and the assembly throughput times that are reduced through adopting this system: other advantages are the considerable savings in procurement and much lower storage costs.
Greater efficiency with maintenance and retrofitting work
Thanks to the modular structure, a qualified electrician no longer needs to be on site to trace a fault. The connections are easy to disconnect and the module can be exchanged – just unplug and release the old module and then position and connect up the new one. That's it. This allows spare parts to be fitted with minimal effort and defective modules can be repaired once they have been removed, without having to deal with long machine outages. Switchgear cabinets can even be designed so that additional functions can easily be retrofitted at a later date. The overall assembly time for LQ's switchgear cabinets is 30% less; there is a 70% saving on building the actual switchgear cabinet, retrofitting time in service is 85% less and the components in the switchgear cabinet have even been reduced by 90%.
We are your partner when it comes to developing and manufacturing switchgear cabinet solutions. Speak to us and find out more on how we can identify hidden potential in your controls.