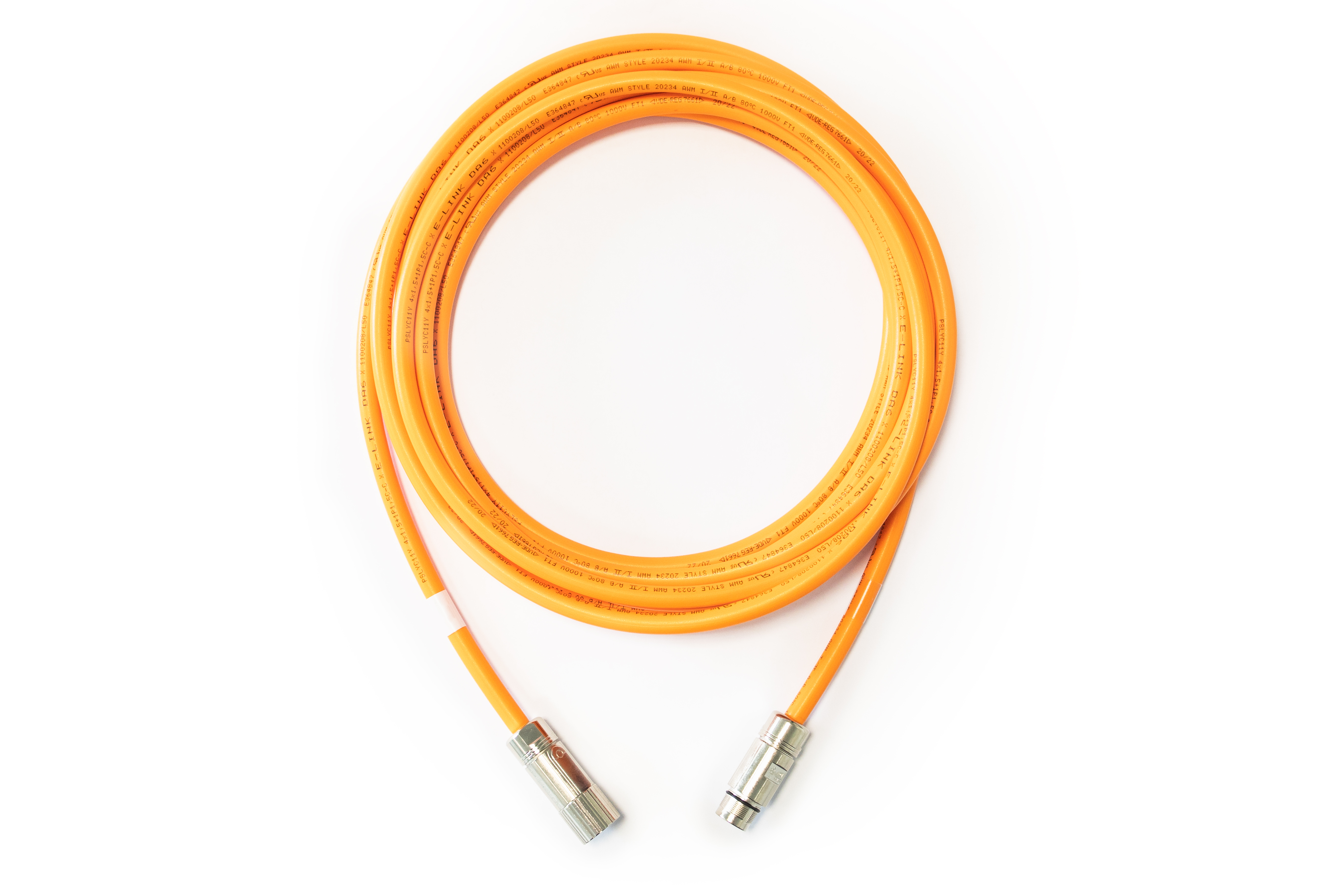 Servo cables from LQ
Precise fit, flexible and high quality
For the transmission of power and data for the drive and control of servo motors, the connector on the motor side with the size M23 has established itself on the market. In combination with high-quality raw cables, servo cables from LQ are characterized by a high level of EMC protection, extreme vibration resistance, tightness and resilience. They are mainly used in mechanical engineering and robotics as a safe connection between electric drives and motors. At LQ, we assemble servo cables according to current market standards as well as customer-specific types.
In addition to simple motor cables such as our W-TEC 15 in the area of belt drives and pumps, servo cables are often used in dynamic applications in mechanical engineering. In contrast to simple motor cables, servo cables have additional wire pairs that can be used for temperature controllers or brakes, for example. They are almost always provided with an overall shield to prevent the propagation of electromagnetic interference and are characterized by their color scheme. Thus, orange for power cables and green for signal cables have become established on the market. Depending on the requirements, servo cables are assembled on the motor side with an M23 connector with a wide variety of contact assignments. On the drive controller side, either custom-fit, customer-specific connectors or open cable ends are offered, depending on customer requirements.
Cable assembler for servo cables
Our years of experience in the design and assembly of servo cables have made us an expert in the field of cable assembly. At LQ we manufacture servo cables in high quantities exactly according to customer requirements. Depending on the requirements, we assemble according to current market standards such as Siemens, Fanuc and Bosch or develop customized connection solutions. Whether for applications centrally in the control cabinet or decentrally in the field. We are guaranteed to find the right solution for your application. At LQ, you benefit from a wide range of possible assemblies and, thanks to high availability directly from stock, we can react correspondingly flexibly to delivery times and length variants.
Servo cables in LQ quality
The quality and functionality of the products that leave our premises are extremely important to us. For this reason, we already pay attention to a flawless condition when selecting the raw materials used. Our semi-automated production also certifies a consistently high quality even with high quantities. Before delivery, all finished products are subjected to a comprehensive optical and electronic test protocol and are guaranteed to be safe and one hundred percent functionally tested. This avoids sources of error and increases plant reliability. In addition, the entire production process is extensively documented and can be fully traced at any time.
M23 power and signal connectors
At LQ, we have been consistently pursuing the path of our own modular system for years. Especially in the area of motor connection systems and cabling for drive technology and automation in mechanical and plant engineering. Not only do we represent the current market standard, but with our own M23 connector we will also be offering assembled signal and power cables in the usual high LQ quality in order to be able to supply even more reliably. The connectors fit seamlessly into the existing product portfolio around our EnergyLink modular system and offer our customers the opportunity to order high-quality servo cables paired with an LQ service - whether ready-to-install installation assemblies, as a cable set, in ready-to-mount energy chains or in control cabinets. This allows costs to be further reduced and lead times in assembly to be shortened without having to accept any compromises in quality, safety or functionality.