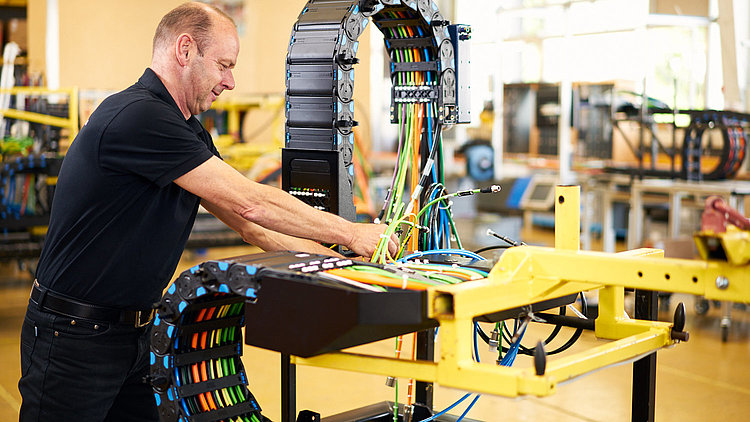 Premium systems supplier for TRUMPF
Prestigious award again received by systems manufacturer LQ Mechatronik-Systeme
Since 2008 LQ Mechatronik-Systeme has worked hard every year to gain the prestigious title of "Premium supplier" to the TRUMPF Group. The collaboration between the companies has grown successfully and continuous optimization is an integral part of the improvement process, resulting in LQ again being included in the exclusive group of TRUMPF's premium suppliers in 2019.
As a holder of this accolade, the systems supplier of electromechanical equipment does not only fulfil the special requirements set by the leading supplier of machine tools worldwide but its cooperation also extends to adapting flexibly to the customer's needs. Manufacturers of machines and systems are increasingly choosing to have external partners deliver complete systems to their assembly lines. These systems are supplied punctually, are of high quality and have already been inspected.
Cables, power cable carriers and modular switchgear cabinets
Cables and modular switchgear cabinets currently form part of the scope of delivery. The LQ Group consolidates certain components into functional units for both controls and machine installations and these are then supplied to the customers ready to assemble and with the functional checks already carried out. LQ's scope of services also includes engineering, design and assembly of equipment and work in the field of logistics and services.
Less time looking, less time waiting
TRUMPF receives the cable and hose sets its needs on specially designed cable trolleys, in just the same way as if they had been produced on site. No cable trolley is the same as the next one: the equipment is fitted at LQ to fulfil a specific order and it is then sent directly to TRUMPF. Both the pinpoint delivery (just-in-time) of the complete systems and the precise sequencing of the products to be fitted (just-in-sequence) play an important role in preventing the production lines from coming to a halt. Short distances, reduced waiting times and time spent looking for the right cable set are in the past.
LQ is in the production network of one of the largest suppliers and looks after the precise organisation across sites.