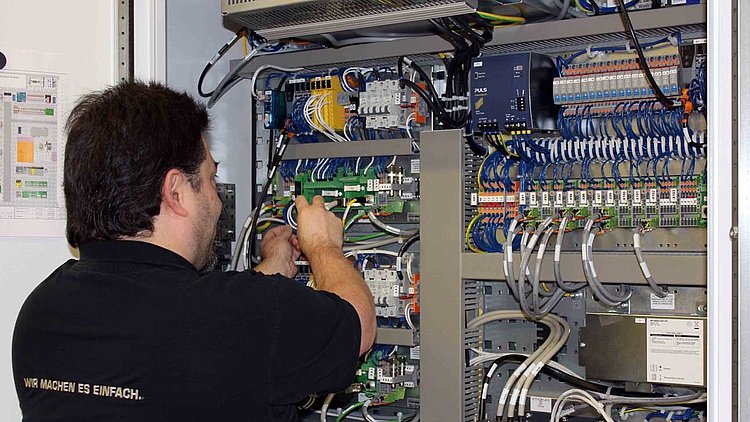 Modules and assemblies take care of the control in the switchgear cabinet
Eyes light up at potential for savings – not only in purchasing and management. There are many advantages in combining electromechanical components to form functional modules – saving costs is just one of many.
When costs need to be saved in engineering, project managers and buyers immediately think of material costs. They change individual components and negotiate with suppliers. Once the cost has eventually been reduced by a bit and the unit is still running, they can tick it off their list. When doing this, it is only too easy to neglect the small, time-intensive operations involved in building the switchgear cabinet. "Anyone who does the wiring in the conventional way needs lots of patience and technical knowledge: they have to strip the insulation off the wires, crimp on the ferrules and attach the individual wires to the terminal blocks. The outlay is immense, it requires specialist staff with electrical engineering training and, on top of that, it is a method that is prone to mistakes," says André Kokot, head of control technology at LQ Mechatronik-Systeme.
Installation and control saves time and money
Although switchgear cabinets lie at the heart of all machines and systems, a glance inside often reveals something rather chaotic. Even modern machines frequently rely on control cabinets with an impenetrable tangle of cables and unruly wiring. It is not exactly what one understands by simple, reliable and orderly installation and control. True to the adage "Close the door and forget about it", every function is assembled and wired in individually. It is clear – long before the first visit by a service engineer – that this way of working is time-consuming and expensive. Anyone who has spent a long time looking for a fault in a circuit knows this only too well. André Kokot explains: "It is much easier to group individual components together to make functional assemblies in IP54 housings and fit them where it is most sensible for the machine topology." Practical experience backs this up: not only is the actual installation easier but the process also becomes more reliable and assembly time is reduced to a minimum.
Compact units in the switchgear cabinet
For more than 15 years, LQ Mechatronik-Systeme from Besigheim in Baden-Württemberg has pursued the objective of standardising control and installation technology in the engineering sector and radically simplifying the process. Today it takes just one operation to position a functional module in the switchgear cabinet. Compact units perform various functions, either in the switchgear cabinet or directly on the motor or unit. As Kokot emphasises: "One convenient component instead of many individual connections saves expense and maintenance effort." Whether it is the motor control, power distribution system or voltage transformer – the aim is to shorten the parts lists and make circuit diagrams less complex. The advantages of an end-to-end control and installation concept using preassembled functional units have an impact from planning and procurement to logistics, production and assembly right through to commissioning. At LQ, all modules undergo comprehensive testing before installation and are supplied to the customer complete with circuit diagrams, layouts, parts lists and 3D models.
In its role as a service provider, LQ designs and assembles modular switchgear cabinets that can also be built to specifications and requirements set by users from the engineering industry. Clear, compact and functional.