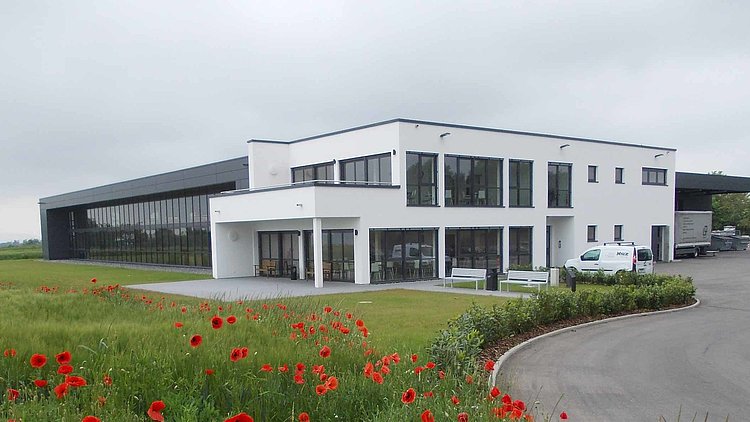 LQ expands headquarters in Besigheim
LQ Group: Mechatronic experts open a new production building
Around eight years ago the LQ Group chose the Ottmarsheimer Höhe industrial estate near Besigheim for its company headquarters and since then has continued to develop the site. A modern new production building with staff facilities has been built at the company's site to respond to the need to increase output and the desire to optimise production.
This building comprising approximately 2,800 square metres accommodates extensive production and logistics areas as well as offices and a canteen. "The extension of our headquarters was the logical consequence of the need to increase production. This new building has allowed us to modernise our production workflows, reduce warehousing costs and increase floor space," is Managing Director José Quero's verdict on the expansion of the site.

This production building brings together the manufacturing units for cable assembly and installation assemblies in one area comprising around 1,850 square metres. It is planned that the first installation engineering assembly lines will be on stream by the autumn, achieving shorter manufacturing times and increasing productivity per area unit. Around 80 people are employed in manufacturing. Offices are directly adjacent to the production areas, ensuring that internal processes run smoothly.

In addition to modern production facilities, the company's engineering expertise helps to standardise interfaces, thus increasing the quality and efficiency of mechanical and plant process engineering. LQ's mechatronic experts supply complete energy carrier and installation systems as well as finished space-saving function modules for control cabinets, which used to be assembled from separate components.
Datasheet
Start of construction:
End of 2011
Completion:
End of 2012
Architect:
neuhäusser+wolf, Büro für Bauplanung GmbH, Steinheimer Straße 12, 71642 Ludwigsburg
Design:
Steel structure, façade panels
Area:
Floor space 2,800 m²; including 1,850 m² for production and 200 m² for offices
Gross volume:
19.840 m³
Number of floors:
Production building 1, staff facilities 2
Employees:
80
Function:
Production and social facilities (canteen)
(Production units for cable assembly and installation assemblies); first production line assembly for installation engineering, increase in output per area unit, reduction in warehouse costs
Heating:
Gas heating, air-heat pump
Special features:
Building with large south-facing glass façade to gain maximum benefit from solar heat.
Energy:
Corresponds to the German rating KfW 85 (15 percent less than the current German energy saving regulations)