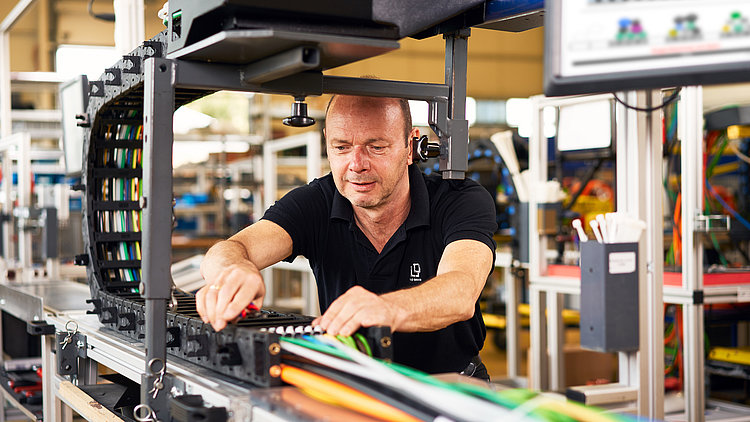 From prototype to complete system
Ready-to-install system solutions from LQ
Energy supply systems are used wherever moving machine parts need to be supplied with energy and data. Nevertheless, almost every installation problem in machine and plant engineering requires a customized solution approach. From analysis and engineering to consulting with regard to connectors, cables or materials used, right through to series production - LQ Mechatronik-Systeme GmbH is your right partner.
Energy supply systems can be quite complex and time-consuming in installation technology. Every inquiry requires a solution approach that is precisely tailored to the machine. Over many years, LQ Mechatronik-Systeme GmbH from Besigheim has become an expert for ready-to-assemble energy chains. At the customer's request, the company organizes the entire handling, assembly and documentation process with parts lists and installation plans, right up to shipping the ready-to-install system on suitable transport racks. "On behalf of customers, we develop prototypes, among other things, and provide support during the introduction or conversion to new components and assemblies," says Michael Chmura from the sales department at LQ. Thanks to years of experience, LQ Group's mechatronics experts can draw on their empirical values while the prototype is still being developed and advise customers on the choice of occupancy and materials used. From standard, simple energy chains to complex multi-axis systems. Depending on the application and customer requirements, other cable carrier systems are recommended and designed. The company's assembly staff take the utmost care when covering the chains with high-quality power cables, data cables, communication cables, sheet metal structures and various hoses. The cable carrier systems are professionally strain-relieved and tested one hundred percent for optimum functionality.
Throughout the entire process chain, from engineering and prototype construction to series production, customers have an expert at hand in LQ. All project data can be managed and updated centrally via an engineering tool. This means that changes can be taken into account flexibly and even at short notice. Trained LQ employees take care of maintenance and service work, repairs and spare parts procurement for all aspects of the complete systems supplied. Even conversions and commissioning can be carried out worldwide on request thanks to a 24-hour on-call service.
LQ assumes complete responsibility and coordinates the design, procurement and manufacture of the complete cable carrier system - assembled, plug-in, single-axis or multi-axis system, both individually manufactured and in series. This creates enormous advantages in terms of quality, time and costs.