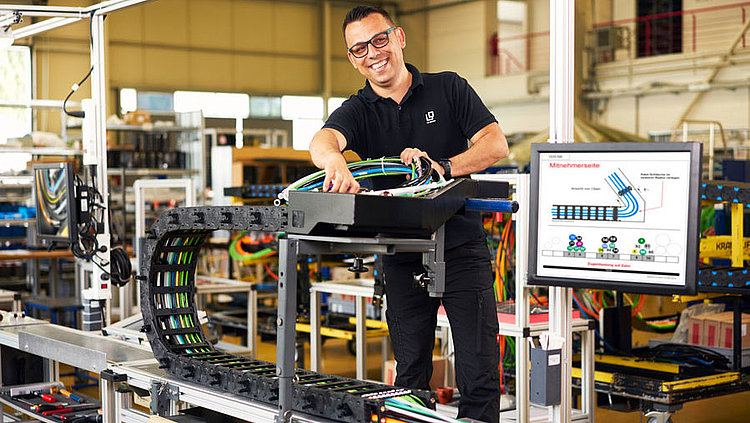 From assembling cable carriers in the engineering department to installation in the customer's factory
System supplier for complex energy supply sys-tems
Energy supply systems are used wherever moving machine components need to be supplied with energy or data. LQ Mechatronik-Systeme is the right partner – from analysis and engineering right through to consultancy for connectors, cables and assemblies.
One of the Besigheim-based company's core competencies is the manufacture of complete cable carrier systems that are ready to install. Depending on what the customer wants, mechatronic experts organise the entire handling, assembly and documentation process including parts lists and installation plans, right up until the ready-to-install systems are dispatched on adapted transport racks. LQ does not only accept responsibility for the provision of simple standard cable carrier systems but, where complex solutions are required, the company also organises everything from making up the cables to the complete system. This offers tremendous advantages when it comes to quality, time and costs. Looking at the whole package, plant and machinery manufacturers save the time and effort of managing many different ordered items and liaising with suppliers. Furthermore, the fact that the assemblies are ready to install and have been checked for function also reduces the workload for the logistics department.
Individual design for the energy supply systems
"When requested to do so by customers, one of our roles is to develop prototypes and provide support during the introduction or changeover to new components and modules," is how Michael Chmura of the sales department describes their services. All project data can be managed and updated centrally via an engineering tool. The cable carrier systems can take very different forms, depending on where they are deployed. According to the loads and the environments where they are going to be deployed, the energy supply systems recommended are made of plastic or metal. The dynamic configuration of the supply system at the place where it is going to be used also plays a role when selecting the components, because the service life of the cable and plastic components varies depending on the load. Jochen Fröhlich, head of systems technology at LQ, explains: "Here we can now draw on our experience and recommend appropriate service intervals to our customers."
Equipping carrier systems with W-TEC power cables
The assembly personnel take tremendous care when laying the individual cables in the carrier systems, using power cables from LQ's W-TEC series. As the final task, the carrier systems are expertly fitted with strain relief devices and they are checked one hundred percent for optimum functionality. Jochen Fröhlich went on to emphasise: "The purchase of ready-to-use cable carrier systems cuts down assembly time from days to hours and creates flexibility during fluctuating order volumes." Trained LQ personnel take care of maintenance, servicing, repairs and spare parts procurement for the complete modular systems supplied. Personnel are on call 24 hours a day to ensure that conversion and commissioning work are available worldwide upon request. Bespoke installation systems are even provided just in sequence.