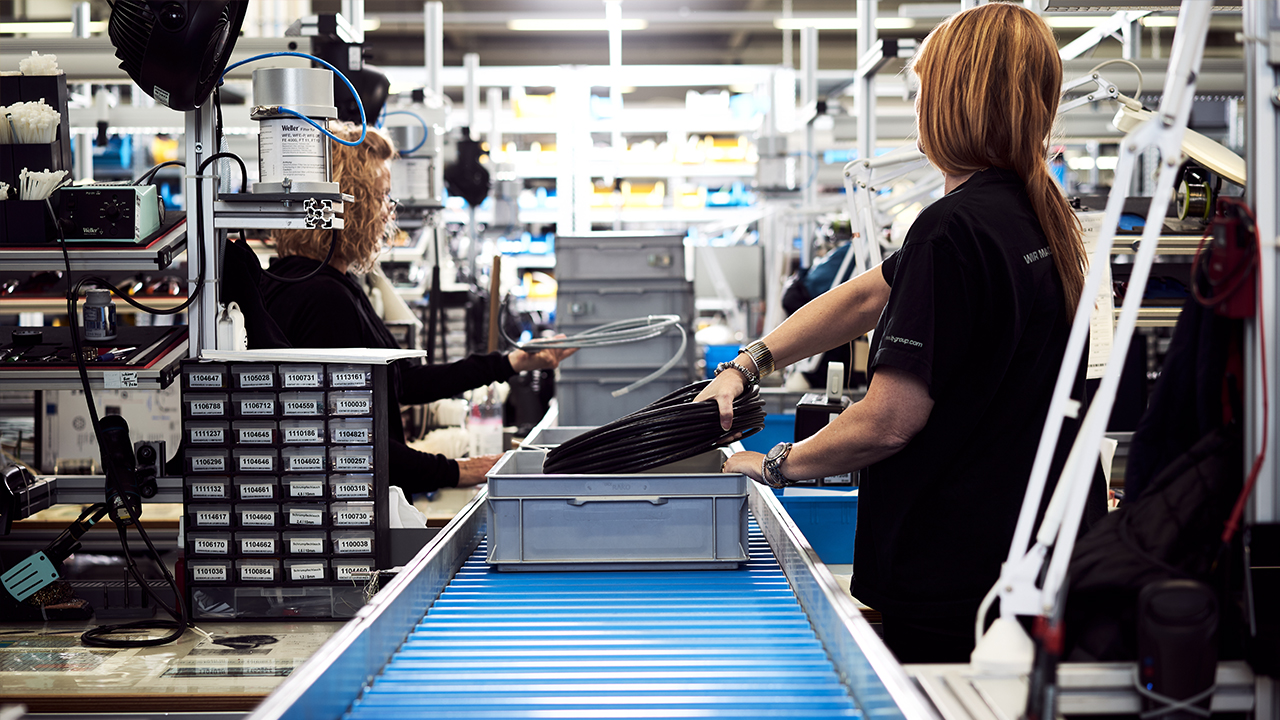 Digital production process control at LQ
Lean Production with the Kanban System
Since its development in 1947 by the Japanese Toyota engineer Taiichi Ohno, the Kanban method has become a proven method in the control and optimization of production systems. Thanks to this system, overproduction can be avoided and products can be produced according to current customer demand - just in time.
The basic principle of the Kanban system is the organization of multi-stage production processes in the form of interlinked control loops. Each of these control loops consists of a production stage and an upstream material store. For each production process, the currently required material quantities are taken from the corresponding material store. The same also applies to each operation, since in each case a downstream material store takes from an upstream one only the part currently required in the required quantity and at the required time. Due to this just-in-time principle, inventories can be reduced to the quantities actually required.
IT based Kanban at LQ
At LQ, we have been using an IT-based Kanban system for several years. All containers are marked with a corresponding code and are scanned when they are removed. As the material flow moves from the starting material to the end product, information flows in the form of kanban in the counterflow. As a result, the removal and production of materials is documented and reported back at each stage. Each work step can thus be traced at any time. In this way, a self-organizing system is created that minimizes inventory and enables faster throughput times. In addition, optimum utilization of production capacity, taking into account current bottlenecks, reduces waste. In this way, we can control the added value at each manufacturing and production stage of a multi-stage production line in a cost-optimized manner.
Close cooperation with our suppliers for efficient results
The real benefit of Kanban systems comes into play when more than just one's own work output is coordinated with a Kanban board. If deliveries are not on time or parts are defective, this disrupts the entire process, resulting in production bottlenecks and delivery problems. That is why we at LQ rely on close and trusting cooperation with our suppliers. Through the optimal interaction of procurement, warehouse management, and production, we can avoid production pauses due to material shortages or overcapacities.
Current events in the economy show once again how important good planning and coordinated processes are. A well-functioning Kanban system can play an important role in this. However, it is rather the sum and the interaction of all measures, strategies and methods that ultimately bring the desired success.