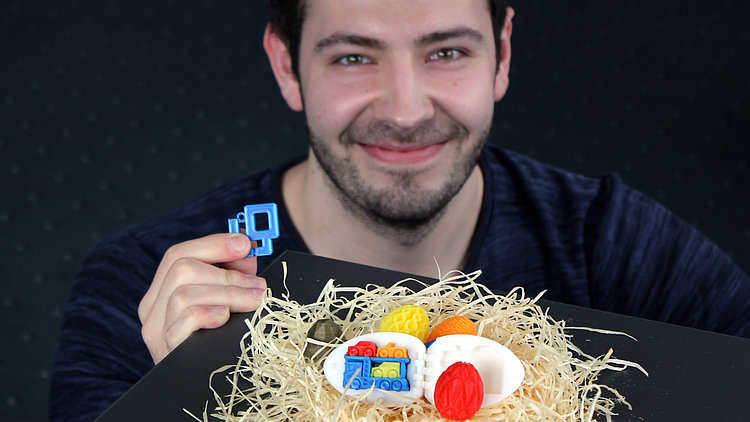 Colourful Easter nest for the new trainees
Creative Easter designs on the 3D printer by the LQ Group's trainees
It's more than just a colourful Easter present – second-year trainees used a 3D printer to produce creative Easter eggs out of brightly coloured plastic and make a festive Easter nest for their new colleagues.
LQ Mechatronik-Systeme's new intake of trainees signed their contracts some months ago but they still have to wait until September to start their training. In the meantime, they still have to sit their final school exams and then they have the long summer holidays. But that's not the case for LQ Mechatronik-Systeme's Year 2 trainees. Last week they gave some thought as to how they could speed up the waiting time for their future colleagues, who they got to know during a taster day at the company.
They produced Easter eggs made of plastic on the 3D printer. The surfaces were decorated with very different designs including filigree patterns. The new trainees will then also find a large white surprise egg containing small give-aways that are appropriate for the professions they want to train for. "The commercial trainees receive a mini car transporter as a symbol for the Procurement Department and warehouse logistics experts are given a forklift truck. We have developed a small robot to represent the combination of mechanical and electrical engineering for the mechatronic technicians," explains Dennis Narr, the commercial trainer for Year 2 trainees. Chocolate eggs and a personal greetings card will be a sweet addition to the Easter nest.
Current LQ trainees want to send this special treat to maintain communication with their successors and remind them of the taster day. Dennis Narr explains: "This Easter gesture has two purposes." Firstly, the mechatronics trainees had a specific project to deliver by programming and printing the eggs and, secondly, "we obviously also had a role on the commercial side when it came to coming up with ideas, procurement, packaging and dispatch."
On another level, this small gesture says more than a thousand words and smooths the way of the future trainees as they look forward to beginning a new phase of their life at the start of September. "It is always nice to know that others are looking forward to your arrival," comments Thomas Deyhle, who is Head of Training.