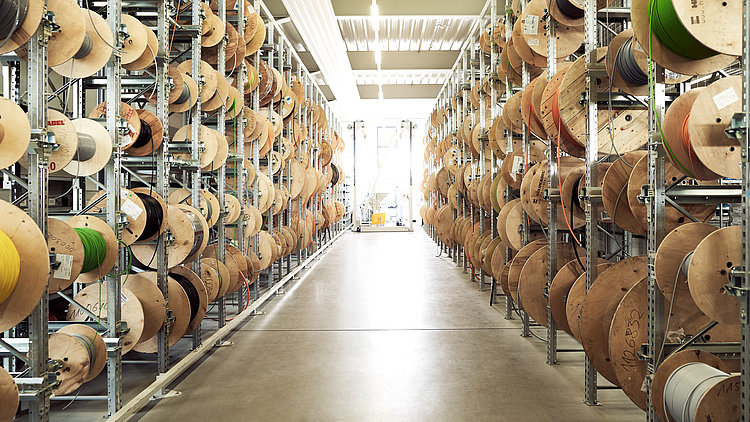 Cable assemblies and cable modules from LQ
High quality and 100% function tested
As a system partner for installation technology, we take over the cable assembly and installation of complete cable and installation modules, so that our customers can focus on their core competencies - the development and manufacturing of machines and systems. Our many years of experience in the field of installation technology make us an expert when it comes to machine installation. At LQ we manufacture over 30,000 cable assemblies per month at our Besigheim site and over 500,000 installation systems per year worldwide.
At LQ, we design and manufacture cable assemblies for a wide variety of applications. Whether servo cables for Siemens, Bosch or Fanuc motors, power cables for asynchronous motors, all kinds of data and signal cables and of course machine-specific special assemblies. Whether standard or customized cable assemblies - we provide top-quality cable assemblies. Our customers benefit from a huge variety of raw cables and plug-in connections, a high degree of flexibility, high-quality raw materials and our many years of experience. For more than twenty years, our cable assemblies and cable modules have been used in a wide variety of industries. This makes us the experts when it comes to installation technology in mechanical and plant engineering.
The advanced processes of our partially automated production not only promise fast and highly flexible assembly, but also guarantee a consistently high level of quality for small batches as well as for large quantities. Customer satisfaction is our top priority. In addition to meticulous raw material selection, all cable assemblies undergo optical and electrical testing procedures. In this way, we can guarantee at all times that only one hundred percent functionally tested cable assemblies reach our customers. We create the comprehensive documentation consisting of parts list and drawing in 2D as well as in 3D.
At LQ, we assemble cable assemblies exactly according to customer requirements and specified parts lists. Always precisely tailored to the machine requirements and the respective application areas. All specifications are coordinated in close dialog with our customers and precisely adhered to. Source/destination data is attached to each cable assembly in the cable modules in a machine-specific manner and thus delivered ready for installation. We summarize the entire parts list under one material number. This greatly simplifies goods receipt at the customer. It is no longer necessary to register many individual parts, but only the entire assembly. Depending on the customer's requirements and the assembly sequence, we deliver the cable assemblies in individual packaging or on reusable transport racks. These sustainable transport racks are exactly adapted to the customer's machine geometry and can even be used as assembly racks.
For our customers, this means: The installation process of a machine is noticeably simplified and accelerated. The machine throughput time is reduced from days to hours at the same time quality is increased thanks to our extensive testing procedures and machine downtimes are also reduced.
We assume full responsibility for smooth logistics, uncomplicated processing and one hundred percent tested quality - both in cable assembly and in the assembly of ready-to-install cable modules. In doing so, we build on a trusting cooperation between our customers and us as a system supplier and rely on a high degree of transparency.