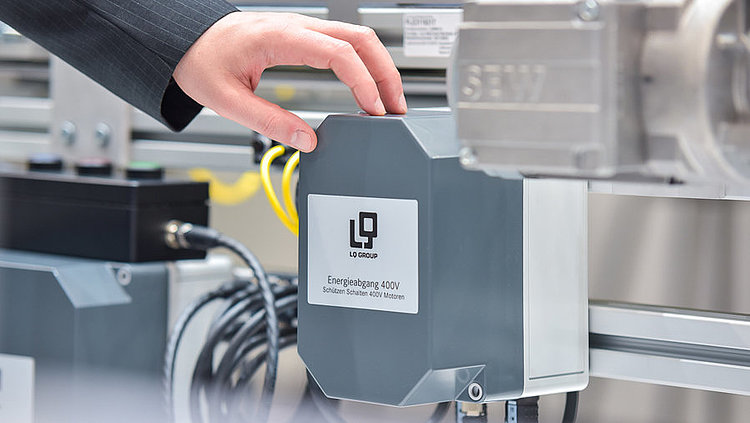 A-TEC control modules for perfect functionality
Hang up, plug in and it's ready
The more complex the machine, the clearer the layout in the switchgear cabinet. Is that possible? Yes, it really is correct that the modular switchgear cabinet needs up to 90 fewer components and no longer requires complicated wiring. LQ Mechatronik-Systeme's philosophy is to think in terms of functions rather than individual components.
With the new A-TEC modules, the company is presenting compact units with different designs that perform different functions either in the switchgear cabinet or directly on the motor or power unit. They are elements of a practical modular system that contain a manageable number of easy-to-handle components for all important functions. The A-TEC functional modules are a logical step in the right direction in line with the LQ Group's philosophy ("We make it simple"). Functions are grouped together to form modules. These are much smaller, save considerable space in the switchgear cabinet and are ultimately more cost effective.
Whether it is the motor starter, on-off switch or gateway – the aim is to shorten the parts lists and make circuit diagrams less complex. The advantages of an end-to-end installation concept using preassembled functional units have an impact from planning and procurement to logistics, production and assembly right through to commissioning.
The time saved is also considerable. "Anyone who wires up individual conductors in the conventional way needs lots of patience and technical knowledge. The effort required is immense: the work has to be carried out by personnel trained in electrical engineering and it is also susceptible to errors. The A-TEC modules themselves contain all the desired functions, are compact, protected and can simply be connected in the switchgear cabinet or directly on the motor or power unit.
Analyses by the Fraunhofer Institute show that the number of components in the switchgear cabinet is reduced by 90 percent, the retrofitting time in service is reduced by up to 85 percent, the throughput time for building the switchgear cabinet is around 70 percent less and the overall assembly time is around 30 percent less. Even the time required by the supplier to provide support is down by up to 60 percent.