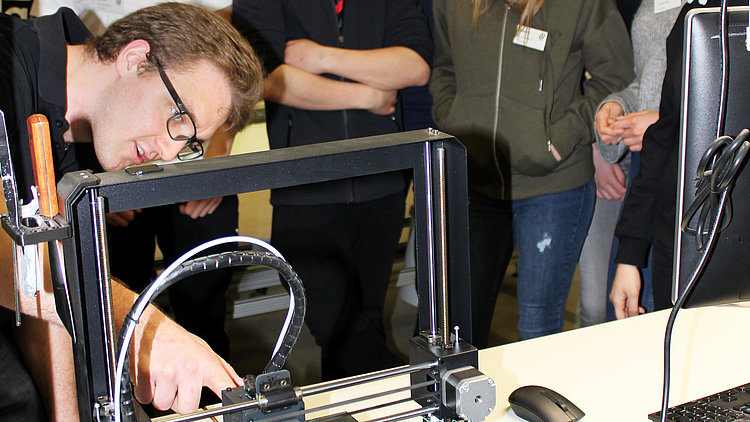 A look behind the scenes at the LQ Group
What can I expect after I leave school? Pupils visit LQ for information.
Eight pupils visited the LQ Group at the end of March to gain an initial impression of the training courses on offer.
The range of training available is greater than ever and job profiles are becoming more specialised. It's good to get the opportunity to look over the shoulders of real trainees and get a picture of what it entails for yourself. Pupils from Year 8 at the Auf dem Laiern School in Kirchheim/Neckar took the opportunity to visit the factory with their teachers but they were particularly interested in the trainees' mechatronics workshop. Marcel Oberhoffner, a mechatronics trainee in his second year, explained how a 3D printer works. The trainees have programmed this themselves. He showcased a model of a port crane, which was able to lift a box weighing five kilos using an electromagnet. The young visitors, full of enthusiasm, experimented with a string of programmed LED lights that produced a colourful display, responding to noise and touch.
Previously, the pupils had been given a live demonstration of the mechatronic control unit that operates the barrier at the factory entrance and they saw the same set-up again as a project for trainees in their workshop. Vitaly Schwarz, the mechatronic technicians' trainer, highlighted the fact that there is very little difference between the unit used to control the barrier and the model, in spite of the massive difference in size.
Ralf Bührer from the Human Resources Department then explained the varied roles of industrial administrators, who are also trained at LQ. Pupils interested in specialising in warehouse logistics were also given an extensive insight into the warehouse for cables.
"We are always pleased to see the enthusiasm of local youngsters for our training courses. Anyone who applies for an apprenticeship and can say that they have been on a company tour is demonstrating genuine interest and has already gained a few extra points before they start," says Ralf Bührer.