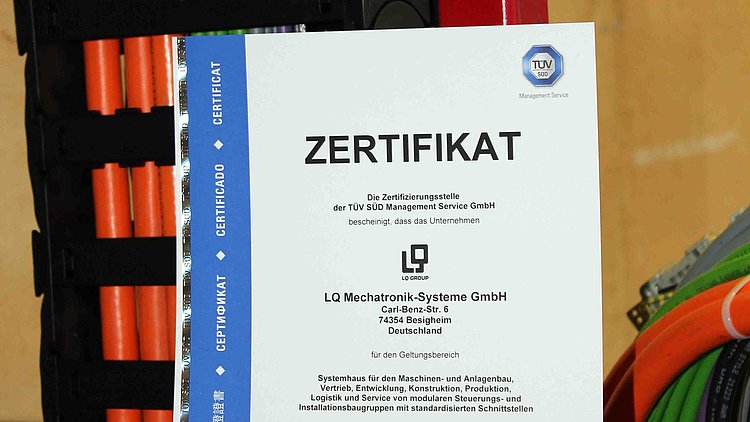 Overall assessment in line with the new standard
LQ has passed the quality audit and has been recertified for another three years
In Summer 2018 LQ Mechatronik-Systeme successfully upgraded to the new ISO 9001:2015 standard. However, it is now time for recertification, looking at the entire company including all relevant departments.
"We are delighted that we have got such excellent results for Purchasing, Sales, Quality Assurance and in the production units," explains Lorenz Stiegler, Head of Quality Assurance at LQ. With the new ISO 9001:2015 standard the auditors also cover the business environment and examine influencing factors that pertain to the customers, suppliers and employees. The way in which opportunities and risks are dealt with in a company context and the objectives derived from this also play a role. He goes on to explain: "An extra role has been added to our duties here – it's called potential for improvement." For example, in the installation technology production unit the auditors felt it would be useful to introduce a risk plan to have a better overview of maintenance intervals for machines and avoid outages. "We will now get this done." Furthermore, all processes must be documented in an understandable way.
TÜV SÜD certified that the company's Besigheim site had met all the targets in full. Certification is of utmost importance for the company with some premium customers in mind. "We just can't afford to have any quality problems," he adds. LQ sees close attention to quality management as a strategic decision for boosting performance.
Stiegler continued: "Once again, with this successful audit we have demonstrated to our customers that we are in control of our processes; we also have these audited independently and we therefore produce and deliver products and services at a very high level."