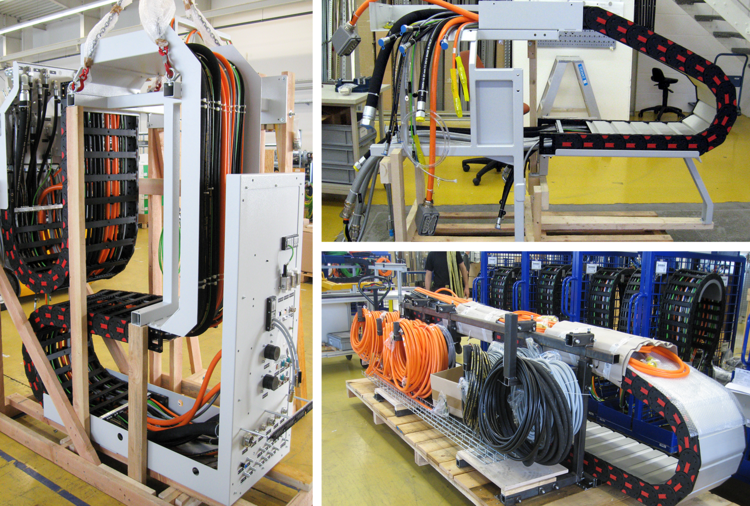 Ready-to-install cable carrier systems
Installation directly at the machine thanks to plug & play
Energy cable carriers are always used where moving machine components need to be supplied with power and data. The carrier systems consist of individual links made of plastic and stainless steel to produce a safe guide for the necessary cables and hoses. It would not be possible to supply the individual moving elements of a machine without this protective carrier. For this reason, carefully equipped cable carriers are essential in the mechanical and plant engineering sector. They play a crucial role in preventing machine outages and ensure that the connectors, cables and hoses last for as long as possible.
OEMs in machine and plant engineering therefore emphasise the importance of analysis and project planning for these important machine components and expect their suppliers to have considerable experience and the necessary resources.
As a successful systems supplier of installation technology in the engineering sector with many years of experience, we have the know-how and expertise to provide our customers with support in important matters relating to ready-to install cable carrier systems. This covers simple standardised cable carrier systems or complex customised multi-axis systems and extends to carriers with travel of up to 40 metres. It includes the development of prototypes through the selection of installed components to series production. As the systems partner, we organise every detail pertaining to the machine installation and provide complete ready-to-install cable carrier systems. The customer provides a parts list with the individual components and LQ assembles and supplies the bespoke system – functions rather than individual parts.

All LQ's cable carrier systems are delivered ready to install and are 100% checked to ensure that they function properly. Precise marking of the source and target are the basis for an effective plug & play principle and so our cable carrier systems fit seamlessly into our customers' existing workflows. This allows machine throughput times to be reduced from several weeks to just a few days. If requested by the customer, we deliver ready-to-install cable carrier systems on special transport racks, thus reducing not only the effort required for logistics and in the goods-in department but, above all, facilitating the installation of the systems during our customers' production process. True to the adage – We make it simple.