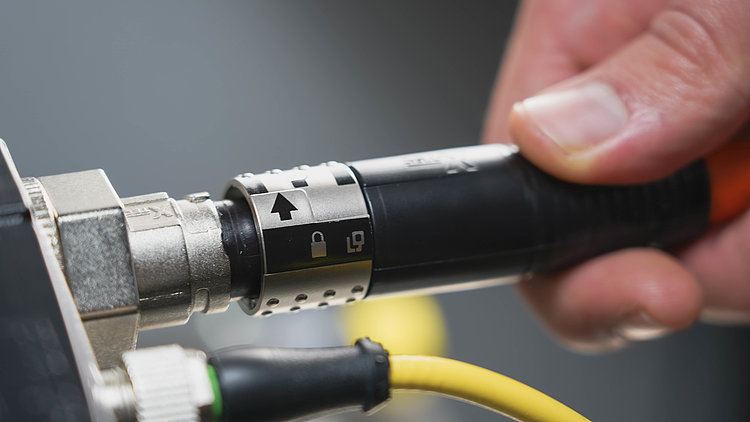 M15 Power: The Original
Best quality and comprehensive service directly from the developer
Cables and connectors are generally taken for granted, and they are often not given much attention in the overall system. However, a secure connection is essential. If it is also more powerful, space-saving and cost-effective than its alternatives, you have the perfect connection for asynchronous motors up to 7.5 kW - the M15 Power.
It all started with an idea - to create the perfect connector for the motor world up to 400V and to establish it as a standard on the market. Powerful, space-saving, easy to handle and above all safe. With the combination of X-TEC 15 plug-in connector and W-TEC 15 power cable, we have created the most powerful connector-cable combination of this size. With its auxiliary contacts up to 250 V, the M15 Power has sufficient power to operate even additional brakes without any problems.
The patented locking system of the M15 Power is simple, fast and safe. No wobbling, extremely vibration-resistant and connected in no time at all. A quarter turn is all it takes to permanently connect the plug in a contact- and tamper-proof manner. The entire connector-cable assembly is UL certified and can thus be integrated into systems for international export without hesitation. In addition, the M15 Power has NEMA 4x & 12 certification and IP66/67 protection ratings, so the connector scores not only with its performance and dimensions, but also with its resistance to external influences such as dust, splash and jet water.
The M15 Power is available in both straight and angled designs. The flexible choices allow it to be easily integrated into the system even in extremely tight spaces. This makes the M15 Power the best choice when it comes to integrating a pluggable, flexible and powerful plug&play solution for your motor connection.
The selection of different cable cross-sections and qualities can be customized depending on the area of application. The materials used in each design are of high quality and extremely resistant to media. Our employees take the utmost care in the production of the connector and thanks to our extensive testing procedures, we guarantee optimum functionality directly from the developer. Thanks to its shielded and unshielded design, the M15 Power always offers you as a customer the best price-performance ratio for your application and requirements. You can find more about the M15 Power here.